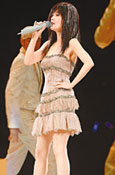 Vivian looked very brave. Her body shape was very fit, as she wore a crystal mini skirt worth HK$200,000 and used a crystal covered microphone, which matched the dress very well. (Picture from SingTao)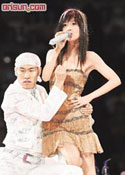 Jade girl is liberated! Vivian comes back on stage with a wild attitude, having close contact with the dancer. (Picture from The Sun)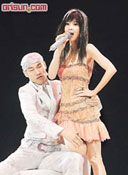 Vivian was kneeling on the dancer's thigh as she was singing, and ignoring the fact that the dancer was moving his hand up her thigh! (Picture from The Sun)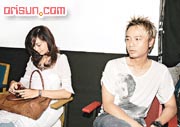 It's rumored that Hacken Lee and Emily Lo Suk Yi already took their wedding pictures in England. Both of them went to see Vivian's concert last night. (Picture from The Sun)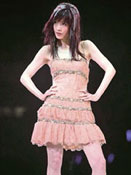 Vivian appeared wearing a crystal mini-dress and said to her more than 10,000 fans, "Thanks everyone for still remembering me after 12 years. Although a lot of people have said that my outer appearance hasn't changed, but actually, the way I think on the inside has changed a lot." (Picture from MingPao)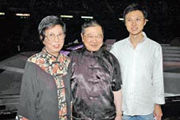 Joe Ngai Jan accompanied his father, Ngai Hong, and his mother to watch Vivian's concert. (Picture from MingPao)
Vivian Chow came back to showbiz for charity and was having her first "Back for Love Concert" last night (5/25). She will be having 3 shows and will be giving her concert earnings of more than HK$1,000,000 (US$128,370) to the 'HK Non-Profit making Veterinary Clinic.' She's bursting with kindness! Vivian's boyfriend and his whole family came to her concert to show their support. While Vivian was on stage, she even led the entire audience to sing "Happy Birthday" to Ngai Hong (Joe's father) to congratulate him for his 71st birthday. Besides Vivian giving him a hug and a kiss, her words "Happy Birthday to Dad" really made her father-in-law melt and feel very happy. It was a touching scene.
Yesterday (5/25) at 5:30pm, Vivian and the concert organizers held a prayer ceremony and cut the roasted pig outside of the Hong Kong Coliseum. Vivian sincerely offered the incense sticks to pray for a smooth performance. She looked very relaxed and frequently waved to her fans, and also showed her 'V' sign to the media while posing for pictures. Although she hasn't performed on stage for many years, she openly said that she wasn't feeling nervous and said that she was still rehearsing the night before until 11:00pm. Earlier, there were rumors that her concert would be the last time that she would be singing. The reporters asked her if she would be making this announcement during her concert, but she said, "I don't have anything to announce!"
Yesterday afternoon, guest performer Leo Ku Kui Kei brought some shark fin soup and abalone backstage for his good friend Vivian. Besides Leo, other guest performers included Hacken Lee Hak Kan, Jo Kuk Jo Lam, Chris Wong Hoi Kan, and Kevin Lam Lung Suen, who sang a Mandarin duet song with Vivian before.
It's been 12 years since Vivian had performed on stage at the HK Coliseum. She was very attentive of all of the details for her concert. Besides the stage being designed in the shape of a diamond, the entire stage was also decorated in a light and graceful manner, putting into effect her natural qualities as the "Jade Girl Master."
Last night's concert was completely sold out. Vivian first appeared on stage accompanied by several dancers and performed on a catwalk. She first sang a fast song medley which included her famous song "One-sided Love" ("Ji Jok Doh Ching") , "Pretend," "Love Song Sha La La," and "Nobody is as Foolish as Me." She was wearing a crystal mini-skirt worth HK$200,000 (US$25,674). On the right side of her hairstyle, she was wearing a very precious hand-made headpiece shaped like the letter "V," which was made up of more than 10,000 red crystals and took a month to string together. The headpiece was worth HK$100,000 (US$12,837).
Vivian explained to the audience about her frame of mind ever since she entered showbiz in 1988 and said that she felt that the audience has watched her grow up, and even said that her happiness comes from everyone. She said, "I haven't seen you all for a long time. It's already been 12 years since I've stood on this stage to sing. Tonight is a really unexpected event. Thanks everyone for still remembering me and for coming tonight to see my show. I've experienced a lot of stages in life, from being a young girl until changing into who I am today." She also said that she doesn't think of herself as an artist, because ever since she left Hong Kong in 1997, she had already found her most comfortable way of living, and understood how to love others. She said her feelings now are more realistic compared to the past and said, "My world is already filled with love!"
Vivian's boyfriend and his family came to her concert to show their support. They were sitting in the first row. At around 9:00pm, Vivian made an announcement on stage saying, "Today is also a big day for another friend. It's Ngai Hong's birthday." Ngai Hong immediately stood up, as the entire audience applauded. Vivian also said, "Happy Birthday Dad. I have something to give to you." She then gave him a bundle of fresh flowers and kissed him on the cheek. Then Vivian's boyfriend, Joe Ngai Jan, stood up and gave Vivian flowers and a kiss. Vivian led the entire audience in singing 'Happy Birthday' to Ngai Hong, and she even sang the line, "Happy Birthday to Dad." When Ngai Hong revealed that he's now 71 years old, Vivian said her father-in-law is really bright.
Ever since 1991, Vivian has been dating famous writer Ngai Hong's son, Joe. Vivian and Joe have a steady relationship and have been together for 15 years. Although Joe and Vivian still haven't personally said that they're already married, Ngai Hong and his wife thought of Vivian as their daughter-in-law for a long time and love her dearly. Vivian would also intimately call Ngai Hong and his wife as Dad and Mom. Since yesterday was Ngai Hong's 71st birthday, Vivian specially arranged for Ngai Hong, his wife, and Joe to come to her concert and enjoy the show.
Guests sitting in the audience last night included Hacken Lee and his wife Emily Lo Suk Yi, who was wearing loose fitting clothes and looked like she might be pregnant. There was also Linda Wong Hing Ping and Gigi Fu Ming Hin sitting in the audience. Guests who couldn't attend Vivian's concert sent flower baskets, including Andy Lau, Leon Lai, Jacky Cheung, Sam Hui, Twins, and others. Vivian's new compilation CD was selling outside of the HK Coliseum, and the entire audience was given a shiny Vivian idol card, a Vivian bookmark, and a Vivian Octopus card plastic cover.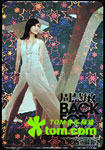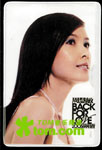 (Pictures from ent.tom.com and tom.com)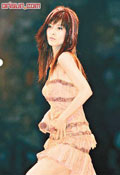 (Picture from Oriental Daily)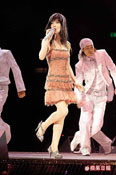 Vivian's first dress last night had an ordinary design, which is entirely opposite of the gorgeous dresses that most other singers wear nowadays for the start of their show. (Picture from Apple Daily)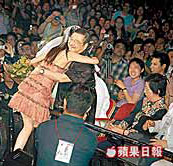 Vivian hugged her future father-in-law Ngai Hong. Joe wouldn't be jealous, would he? (Picture from Apple Daily)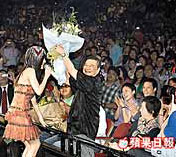 Vivian gave her father-in-law flowers, making Ngai Hong, who's celebrating his 71st birthday, all smiles. (Picture from Apple Daily)

Vivian's boyfriend, Joe, kissed her on the cheek in front of everyone, showing off their love. (Picture from Apple Daily)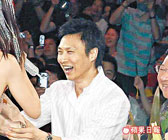 Joe Ngai Jan. (Picture from Apple Daily)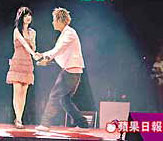 Vivian and Hacken Lee sang their duet song "Thousands of Love All in One," while the audience cheered nonstop. (Picture from Apple Daily)


Comparison of the 5 generations of Jade Girls. (Picture from Apple Daily)