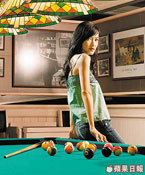 Vivian hasn't been able to play pool with her boyfriend for a few months already, because she's been preparing for her concert.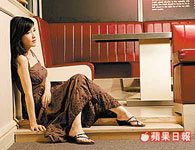 Vivian's father passed away the same year she was born, so she was raised solely by her mother, which is why she has a very good relationship with her mother.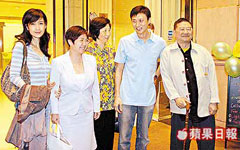 Vivian would often have dinner together with Joe's father, Ngai Hong, and mother.

Vivian loves animals the same way she loves her boyfriend. There's no difference.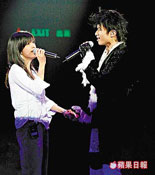 Vivian and Leo Ku are very good friends. Of course Vivian would show her support when Leo has a concert.
Vivian Chow is the first generation "Jade Girl Master." She's making a comeback to have a concert because of love, with plans to raise funds for the Non-Profit making Veterinary Service Society (NPV). She hopes that through her singing, she'll be able to get all social circles to take notice of NPV. Vivian said previously that she wouldn't get married and wouldn't have children. But actually when she was young, she also looked forward to getting married and having children, up until she met Joe Ngai Jan, and only then did she feel it wasn't necessary to depend on a marriage certificate to acknowledge each other's relationship. However, she said if she accidentally got pregnant, she would still give birth to the baby for Joe even if she was 50 years old.
The first generation "Jade Girl Master" Vivian is currently 38 years old. During the time when she was at her peak in her entertainment career, she had suddenly announced she was retiring, which made some people think that maybe Vivian was very silly to make such a decision, but right now, she's living happily compared to everyone else, because she's content with her situation. She said, "I have a pretty good partner, a pretty good group of friends, a group of well-behaved children (referring to her cats and dog), a mother who loves me, and even my boyfriend's parents also love me very much. All of them are connected as one in my heart and not divided between them and me. I don't aspire for materialistic things. If I suddenly passed away, I would be very content and wouldn't have any regrets, and as for myself, I wouldn't have any other requests."

Difficult childhood
Compared to the past, Vivian is really living happily now. Soon after she was born, her father died of heart disease and her mother solely had to use her own strength to support the family. When Vivian was around 5 or 6 years old, her mother had a serious illness and was in danger of dying at any time, which let Vivian to be aware that she could become an orphan at any time. Vivian said, "When I was little, my family was poor. My mother was always busy working and didn't have time to teach me about the reasoning on how a person should behave. But she taught me not to rely on anyone, so I had a stubborn characteristic ever since I was a child, and I understood that I would still have to continue living even if there was nobody beside me. Luckily I didn't become a bad child, and compared to most other children, I was considerate, and I never requested for materialistic things."
Won't rule out getting married
When Vivian was around 20 years old, she had thought about getting married and having children, but after she got to know Joe Ngai, she changed her point of view. Vivian said, "My way of thinking often changes. Right now, this state is quite comfortable. I've been with my boyfriend for so long. We've already gradually entered another stage. It's a harvesting time period. We don't have to especially accommodate to one another. We already know how to give up ourself for each other, and we give each other quite a large amount of space. For example, when he's writing articles, I would try as much as possible to be more quiet, and when I had to write my book, he would be very quiet. This would make each of us feel comfortable. We both know very well how to forgive each other. Since we've already reached such a reliable stage, we don't need a marriage certificate to acknowledge our status. Of course, I don't oppose getting married. I won't rule out that one day we suddenly have an impulse to get married."
Learning from Ngai Hong on how to handle the world
When talking about having a son to carry on the family name, Vivian said she decided long ago that she wouldn't have children. She said, "I like children, but it would entail strenuous effort for me to raise my children, and I would have a headache. However, I feel more confident in being successful when raising animals. I take good care of my pets, and I'm very happy. My cats and dog are my children. Their status isn't lower than children. I give my love to them, and they benefit from this. I'm already very happy. But if I accidentally get pregnant, I'll keep the child. Even if I became pregnant at 50 years old, I would still keep the child."
Vivian feels most gratified to have been favored by luck, in that both of their parents have also accepted their other half. Getting along with her boyfriend's father, Ngai Hong, is an incomparable happiness. She said, "Joe's parents are very independent and they're open-minded. Joe's dad is especially humorous, and would often do things the unconventional way! For instance, when he came back to HK this time, the media followed him just as much as they did with Joe and I. But he's not unaccustomed to it. When he saw that the reporters were following him during the whole journey, he thought that since he couldn't break away from them, then it would be better for him to ride in the reporter's vehicle to go around sight-seeing, so he changed the pressure of the reporter's following him into something else. Joe's dad is very open and is a superior man. I could use his way on myself. During a person's existence, you'll be faced with many variables. Being happy is something that can be controlled by yourself. Use your own wisdom and your experiences in life to reconcile and to adjust."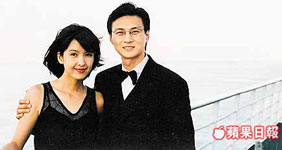 This picture of Vivian and Joe was provided by Vivian from her private collection.