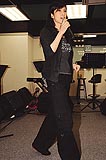 Doing good deeds is a precondition for Vivian to hold the microphone again. Vivian said, "It doesn't necessarily have to be for animals. When I have the chance, I will help to do fundraising for people. Right now, there have been different charitable organizations who have contacted me."
Vivian Chow will soon be making her comeback with 3 concert shows. All of her concert earnings will be donated to the "Non-Profit making Veterinary clinic" (NPV) to help fund their services. Performing on stage again is for love, and not money.
While Vivian is performing voluntarily, the ticket sales for her concert have been a success, and some people have been trying to suggest the idea to Vivian about having more shows to earn some real money. One concert organizer said if she agrees to do a world concert tour, which includes places like the USA, Canada, Singapore, Malaysia, Australia, Mainland China etc., then she could easily pocket HK$10 million (US$ 1,279,508). However, Vivian has 'stress phobia' and would rather not earn the money. Vivian said, "I won't think of myself as being a star or artist again. I already don't need to please anyone. I'd rather save some time to accompany the people I like and do the things I like. I will only sing again for charity. My lifestyle requirements are very simple. If I have the '3 pan-fried treasures' (pan-fried eggplant, green bell pepper, and tofu stuffed with minced fish meat) or a coffee cake roll as a meal, then I'm already very happy."
Easily feels stressed
In 2004, Vivian performed at Sam Hui's concert for free, and since then, there have constantly been people suggesting to Vivian to come back and have a concert. She said, "I've already been preparing for this concert since a year ago, and at the same time, I also wanted to help NPV raise money, because their organization hasn't officially been established, so that's why I decided to make use of my popularity to bring about people's attention, and thus decided to have a concert."
Vivian said, "After I've completed this show and have waited for the money to be transferred, then my dream will be accomplished. The operation of the clinic afterwards will depend upon themselves (NPV)."
The minute Vivian said she was making a comeback, a group of concert organizers were one by one suggesting that she should have another concert again and have a world concert tour, with her being offered as high as HK$10 million (US$1,279,508) for these concerts. However, Vivian wasn't interested in the money and didn't want to have the concerts. She said, "I won't let myself be under a lot of stress again. Although this hasn't caused any specific symptoms, but because I become stressed easily, I would feel a lot of pressure everytime I do something. I won't allow myself to do a bad job on anything."
For this meaningful concert, Vivian decided she would do this concert before telling her boyfriend, Joe Ngai Jan, because she was afraid he would be opposed to her decision. She said, "I knew he would be opposed to it, so I told him about it after I had already decided everything, because then he wouldn't have any chance to persuade me to not do it. He would be thinking, 'Why should you need to work so hard?' However, he would surely support me in my decision."
| | | |
| --- | --- | --- |
| | | In April at Vivian's concert press conference, Vivian's weight had dropped to 98 pounds. Reporters pointed out that Vivian's chest area became smaller, and Vivian quickly tried to eat more food to gain weight. |
| | | |
| | | Even though Vivian is able to earn a lot of money, she still loves to eat things that the common people eat. Her favorite foods are curry fish balls and mini-egg waffles. |
I make the decision
Until now, the outside world believed firmly that Joe was Vivian's advisor, like if the boyfriend said 'no,' then the girlfriend wouldn't dare to say 'yes.' But this is actually a glaring mistake. Vivian said, "Many people thought that Joe helped me make a lot of my decisions, but actually, I make my own decisions on everything. I'm a very stubborn person! I was trained like this since my childhood. I was the only daughter at home (only child), and my mother suffered and worked very hard to raise me. But my mom is much older than me. She's 82 years old this year. That's why I already started helping myself to make all my decisions when I was very young, and if I had any problems, I would solve them myself."
For the concert this time, Vivian's weight dropped from 118 pounds to 98 pounds. After going through a compressed form of gaining weight, her weight has returned to 105 pounds. She said, "If I was only responsible for singing and dancing, then it would be easy. But I'm a person who easily stresses out. I would participate in every part, and I would even make a telephone call to ask about the progress, which is giving me a lot of pressure. It's been a long time since I've been with my cats. I really want to thank Joe. He's helping me during this time period to take care of the cats, and if they're not feeling well, then he would take them to see the veterinarian, which let's me to be able to keep my mind on preparing for my concert."
| | | |
| --- | --- | --- |
| | | Besides doing good deeds, the concert this time has also given Vivian the chance to get to know some new friends that are responsible for playing the music at her concert, including this foreigner who plays the saxophone. |
| | | |
| | | When the band members asked to take pictures together, Vivian satisfied all band members by taking a picture with each of them, and not showing any arrogance. |
| | | |
| | | Vivian describes Joe as being a big kid. To make his girfriend happy, he once took a picture while using their beloved cat Pal to cover up the bottom part of his body. |
| | | |
| | | The palace dress Vivian wore in 1994 for her "Wedding of Feelings" MV was very shocking. For her concert this time, she will also be wearing a queen palace dress, and many people are looking forward to it. |
Low-priced entertainment
In order to gain weight, Vivian has been crazily eating her favorite foods, such as the '3 pan-fried treasures' and curry fish balls. She hasn't avoided eating these foods in order to protect her voice. She said, "For this aspect, I'm really relaxed. These kinds of foods won't affect my voice. My lifestyle requirements are very simple. As long as I can eat the coffee cake roll that I like everyday (eaten everyday for 10 years), then I'm already very satisfied!"
Vivian's 'thrifty girl' nickname is well supported by fact. Some people enjoy going to a hotel for high tea, but Vivian instead likes to go to Cafe de Coral to drink a cup of milk tea that costs a few dollars.
She said, "I would sit there and finish my drink before leaving. When the people see me sitting there, they would think it's very strange, but I don't feel there's a problem."
Vivian could eat a lot, but she wouldn't become fat, and that's just natural for her. She said, "I've been about 110 pounds for many years. I weighed the most when I was studying in A Level. I came down with tuberculosis at that time, and then after I recovered, I would be eating tonics everyday and drinking milk, and I gained weight. The most I weighed was 128 pounds."
Vivian isn't afraid to eat fried foods. In the past, Vivian would eat one cup of ice cream everyday, but because of her concert, she has already avoided eating cold things. She said, "I don't eat ice cream nowadays and seldom have cold drinks. I've changed to drinking warm water. I would also drink Cordyceps sinensis, and I would go see a traditional Chinese medicine doctor to recuperate my body, because women have always been a little weaker!"
| | | |
| --- | --- | --- |
| | | This year during February, Vivian became the 'walking billboard' for the pool hall that Joe opened, so Joe went to one of the food stalls to buy food for Vivian as a recognition for her work, putting into practice the style of the thrifty family. |
| | | |
| | | |
| --- | --- | --- |
| | | Although Vivian saves money on many things, she doesn't mind spending money on dinner with her father-in-law Ngai Hong (far right). |

Hasn't changed her appearance
After all these years, Vivian hasn't lost her original shape. Actually, food helps her appearance, and she also doesn't mind revealing her secret recipe to staying fit.

She said, "I think about things in a very simple way. Joe and I are like big kids. It's very easy for us to be happy. We have 4 cats at home. Actually, both of us are cats, so that should be a total of 6 cats."

She also said, "The most important thing is to be happy. Money can't buy happiness. In the past, I had binding contracts which would sometimes require me to do things that I didn't want to do. But now I can make my own choices and I won't force myself to do things that I don't want to do. I already don't need to please anyone, but I also won't make a person feel uncomfortable! This is my objective for how I conduct myself today!"
| | | |
| --- | --- | --- |
| | | For Vivian's concert this time, she will be playing on a transparent grand piano that's worth more than HK$1 million (US$127,944) . She will be playing and singing 3 songs on this piano, showing off her level 8 piano skills. |
| | | |
| | | Vivian hasn't practiced playing the piano for many years, because her cat Pal doesn't like the sound of a piano. Recently, she had to practice at her mom's home to get ready for her concert. Even her piano sheet music was copied by herself and not written by another person.. |
Rich Thrifty Girl
Vivian's nickname is 'Thrifty Girl' (from her character on the TV series "The Greed of Man"). She's been cautious about her finances all along. In 1997 during the financial storm, everyone lost most of their assets. But Vivian never invested in real estate or stocks. Back in '97, she only owned 2 units at San Francisco Tower which was worth a total of HK$15 million (US$1,919,164), plus she had her retirement concert during that year, and it was rumored she had HK$50 million (US$6,397,215) in cash saved in the bank. It's said that even though she doesn't have any worries in life, she still puts her thrifty style into practice. She doesn't love to wear designer clothes. When buying clothes, she would only choose the clothes from last season. Her favorite food is the curry fish balls from the street-side stalls and the common people's milk tea. The biggest investment would be Vivian and Joe's cars, which are a HK$200,000 (US$25,589) Volkswagen and a HK$300,000+ (US$38,383+) BMW 320i.
| | | |
| --- | --- | --- |
| | | Vivian drove her previous BMW for more than 10 years. She was only willing to part with it last year and changed to a new style. |
| | | |
| | | As the Asia spokesperson for Shiseido, Vivian earned HK$8,000,000 (US$1,023,554) in 2 years. |