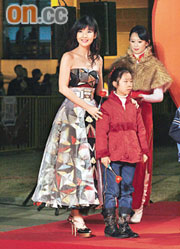 Vivian wore a tube dress showing off her shoulders and succeeded in grabbing everyone's attention. (Picture from The Sun)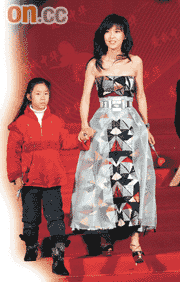 Vivian wore a tube dress and looked beautiful and glamorous. (Picture from Oriental Daily)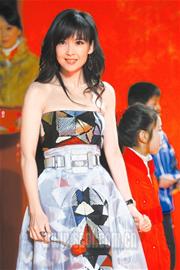 (Picture from wccdaily.com.cn)
Vivian Chow has actively participated in charity events after leaving the entertainment industry. Last night, she was in Shanghai to attend the "2008 New Entertainment Charity Stars Event." This charity awards ceremony included stars from China, Hong Kong, and Taiwan, such as Vivian Chow, Fan Bing Bing, Vivian Hsu, Peter Ho Yun Tung, Irene Wan Bik Ha, Nicky Wu, Jimmy Lin and others. Every time there's a big event, most of the female stars would battle to show off their figure, but this time, they all unexpectedly put away their sexy dresses. The only star who was rather eye-catching was Vivian Chow, who wore a long dress that revealed her shoulders. Vivian Hsu's low cut dress was also no match against Vivian Chow's dress. All the stars walked on the red carpet together with the people who received assistance from the charity organizations. Vivian walked on the red carpet while holding hands with one of the children. At the awards ceremony, Jet Li presented Vivian with the "Most Influential Charitable Star" award.
Appearing in Shanghai for the first time in 15 years
It's been 15 years since Vivian came to Shanghai. Last night, she was being pursued by the media and her fans. Everywhere she went, she was being surrounded by a crowd of people. She's still a 'Jade Girl.' After she stepped away from the entertainment circle, she has been enthusiastic about doing charity work all over the place. Last year, she went to the Congo to visit the local impoverished people and also became the sponsor of a 2-year-old girl. Vivian has always appealed to have more friends become a child sponsor, to allow the poor children to enjoy the warmth of a family. She felt that she's a woman who has been cared for by God, so she wanted to give back to society. She said, "It's just like being able to use the attention that we give to ourselves, and use this strength to pay close attention to society and give back to society." Currently, Vivian is a sponsor of 4 children. When asked if she likes children and if she's thought about giving birth to her own child, she laughed saying, "Besides the children that I sponsor, I already have many 'children' at home, and they are my cats and dog. The love that we give to these 'children' is no different than what a father and mother would give to their children." Besides doing charity work this year, it's also the 20th year of Vivian being in showbiz. Regarding her plans for acting again, she said, "As long as it's fun and interesting, then I'll think about doing it."
| | | |
| --- | --- | --- |
| | | |
| (Picture from xkb.com.cn) | | (Picture from ent.mop.com) |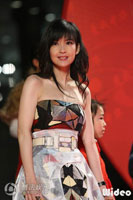 Vivian's dress with prism shapes was eye-catching. (Picture from ent.qq.com)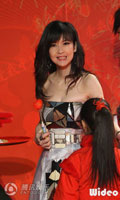 Vivian looked beautiful and glamorous. (Picture from ent.qq.com)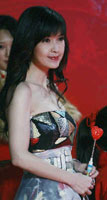 (Picture from ent.qq.com)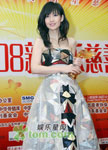 (Picture from ent.tom.com)