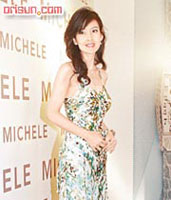 Vivian wore a long slip dress with little flowers to the event, emitting an elegant spring time feeling! (Picture from The Sun)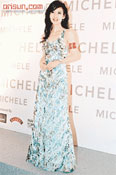 Vivian said she had already successfully gained weight and currently weighs 105 pounds. (Picture from Oriental Daily)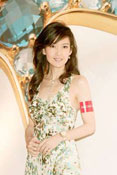 Vivian was trying to gain weight in preparation for her concert. (Picture from Ta Kung Pao)
Recently, Jade Girl Master Vivian Chow has been frequently attending events for advertisers and has been working hard to gain weight. Two nights ago, she attended an event but didn't bump into her rumored love rival, Jo Kuk Jo Lam, who was also at the event. But Vivian openly said she had invited Jo early on to be her only female guest performer at her concert, and even hoped to show Jo's most beautiful side during her concert!
Two nights ago (5/9), Vivian attended the Michele watch and jewelry launch party at the Habitu The Garden restaurant in Causeway Bay and appeared as the last guest to model Michele's newest wrist watch series. Besides receiving a monetary reward to attend the event, Vivian was also given a black watch worth HK$30,000 (US$3,851) as a present. Other guests at the show included Carlo Ng Ka Lok, Eileen Tung Oi Ling, Fiona Yuen Choi Wan, Cherrie Ying Choi Yi, Rosemary, Priscillia Ku Kei Kwan, Crystal Tin Yui Nei, Joe Ma Tak Chung and others. Even Jo Kuk Jo Lam attended the event. Jo was earlier rumored to have come between Vivian and her boyfriend Joe Ngai Jan. But Jo and Vivian did not bump into each other during the event. At the event, Jo already clarified the rumors, but Vivian did not specifically clarify. Vivian said, "I knew she would be here at the event. We talked on the phone earlier." A reporter asked, "Were you talking about the rumored news?" Vivian laughed saying, "We didn't specifically talk about it. Actually Jo and I are very good friends. We know the rumors aren't true, so why bother talking about it. We have so many other topics to talk about. She's the only female guest performer at my concert. Right now we're discussing about what she'll be wearing at my concert. I hope she will look very beautiful when she appears on stage. We will be singing a song together, but you'll have to watch the show for more details!" Vivian said she would be personally helping Jo design a dress for her concert. It seems Jo and Vivian's affection for each other is like they're sisters. Vivian trusts her boyfriend 100%. The reporter asked, "Will you be giving this watch to your boyfriend?" Vivian said, "If he likes it, then I will."
It's been more than 10 years since Vivian's last concert. Earlier when she attended some public events, she looked very skinny. Vivian has recently been busy gaining weight for her concert. Vivian wore a slip dress to the Michele launch party and looked to be in high spirits, as she had succefully gained some weight. She said she's been eating lots of small meals and drinking milk. She said, "I weigh 105 pounds now. It's almost good enough! It would be most ideal if I could gain a little more weight, because once the concert starts, I'll be so busy that I'll naturally lose weight. I'm eating double the amount of food I usually eat, but I've been doing a lot of exercise." The reporter asked, "You're not afraid of eating so much that your stomach gets bigger? Vivian said, "I'll continue to exercise afterwards."
Can't sleep well everyday
Recently, Vivian hasn't been able to sleep well because her neighbors were renovating. She said, "This past year, there have been people renovating above and below my home, and to the left and right of my home. My home is right in the middle. Actually, it's because I sleep late. Right now I'm already going to sleep earlier. Back then, I would go to sleep when it's daylight, because it's quiet at night, so we can go on the Internet, write articles or anything else. I want to see if my neighbors would be able to stop remodelling during the time period that I'm having my concert, but I don't know how to ask them." The reporter said, "How about give them tickets to your concert?" She said, "I don't even have tickets." Then the reporter said, "How about move to a hotel?" and she said, "I don't want to leave my cats!" The reporter said, "How about moving to a short term lease residency?" She said, "We've tried that before, but the cats weren't accustomed to it."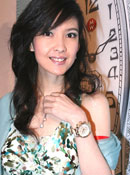 Vivian looked graceful and appealing as she modelled the Michele watch. (Picture from Ta Kung Pao)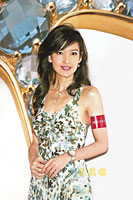 Vivian is making some good money, and her income increased again 2 nights ago. (Picture from Wen Wei Po)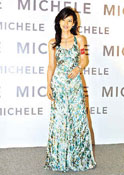 Vivian looks to be in much higher spirits after she gained a little weight. (Picture from SingPao)