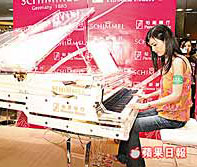 Vivian is good at playing the piano and played her song "Time" on the glass piano worth HK$1,160,000. (Picture from Apple)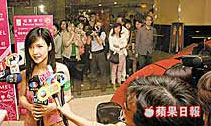 When Vivian was being interviewed, there was a large group of fans outside the door taking pictures of her. (Picture from Apple)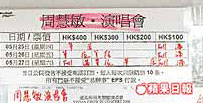 Vivian's concert ticket sales was ideal, with the HK$100 seats for the 3 shows being completely sold out and only single seating left for the HK$400 seats. (Picture from Apple)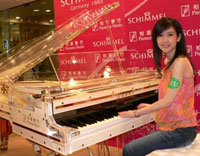 Vivian was playing on a transparent piano worth more than HK$1 million. (Picture from Ta Kung Pao)
Yesterday (5/4), Vivian Chow was rehearsing for her concert and played one of her older songs on a piano worth HK$1,160,000 (US$148,908). She looked like a skilled pianist. When Vivian was asked if her concert would be the last time she performs on stage, she said she's not sure, because she wouldn't rule out that she might perform again in the future for charity.
Yesterday, Vivian went to Parsons Music shop at Times Square in Causeway Bay to rehearse for her 'Back for Love' concert, which will be held this month on the 25th-27th. Many people were watching outside of the piano shop, hoping to see the elegant manner of the "Jade Girl Master." Vivian played her song "Time," which is from her last Mandarin album in 1996, on a transparent glass piano worth HK$1,160,000. During her concert, she will be playing 3 songs on this piano.
Dismisses rumors with a laugh
Recently, there was a magazine which said that Vivian and her boyfriend Joe Ngai Jan were already married, but then there was a report that said both of them were on the verge of breaking up. Vivian said she didn't get mad at any of these reports and said, "I've basically looked at all those magazines, but the funniest part is that every story isn't the same. I think some people just want to join in for fun, with each one creating a different story. After I finished looking at the stories, I just laughed and that's it. I don't have any feelings about this. I'm currently concentrating on preparing for my concert, as this major event is important." A reporter asked if she was already married. She said, "I don't want to talk about it. I've explained this many times before. I believe my friends and fans already know what I would do or wouldn't do. I'm very happy maintaining the current condition. There's no pressure even though my work load has increased a lot, and I'm really enjoying it. I'm putting all my emotions into this and hope that everything is perfect, so that I can give myself and the audience a beautiful memory."
Earlier, there was a report which said that Vivian's concert this time would be her last time performing on stage. Vivian said, "After I'm done with this concert, I don't know when I will have another concert. Although there is quite a big chance this concert will be my last time performing, but since I'm still young and strong, if you can use me to help people, then it's better to do it now, otherwise when I'm older, I won't have the strength to help others. I would do my best to help out. Life is unpredictable. Twelve years ago, I never thought that I would be having a concert 12 years later. Everytime I do a job, I treat it as if it were my last time and wouldn't think if there would be another time; I would do my best to get the job done well, so that at the very least, I wouldn't feel any regret when I look back at it in the future." In the end, Vivian emphasized that she doesn't have any interest to perform for commercial purposes, but she would think about performing for charity. She said, "After I agreed to do the concert this time, there have been many people looking for me to do a concert tour, but I declined all their offers. I hope to save more time for myself, and would rather do community work." A reporter asked if she would have any additional shows, and she said, "At this moment, no." The reporter asked if 3 shows is good enough, and she said, "It's good enough!"
Vivian also said she's already left some tickets for her friends to see her concert and said, "But I couldn't invite all the people I wanted to invite." The reporter asked if she contacted Sam Hui. She said, "I don't dare to, because I know he's low-key. I've contacted one of his good friends and told his friend that if Sam has time, I welcome him to come see my show. I didn't ask him to be a guest performer, because I don't want to bother him. There will be a surprise guest performer at my concert. I don't just invite anyone to be my guest. All of my guests are important people. Everyone will be happy when they see my guests."
Tickets selling better than Joey Yung's concert tickets
Also, the reporter yesterday asked the ticket box office on the status of the ticket sales for Vivian's 3 concert shows. The HK$100 tickets for the 3 shows were sold out, and the 25th and 26th shows only had single seats left for the HK$400 seats. The HK$400 seats for the 27th show were sold out. On the contrary, Joey Yung Cho Yee's 'One Live One Love Concert' this month during the 12th-15th was only sold out for the HK$150 seats.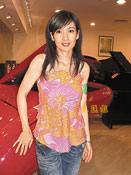 As an artist, you would feel lonely if no one talked about you. That's why Vivian likes everyone to "join in on the fun." (Picture from Wen Wei Po)


Vivian is the first singer in Asia to perform on this transparent grand piano for a concert. (Picture from SingPao)


Vivian is enthusiastic about helping the community and would do her best when doing work for charity. (Picture from SingPao)