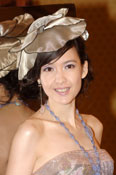 Vivian has finally lined up to make a comeback after Chris Wong, Sam Hui, Paula Tsui, and Shirley Kwan. (Picture from tungstar.com)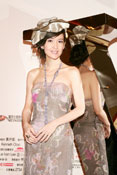 Vivian is trying to gain weight for her concert. (Picture from tungstar.com)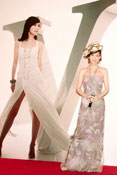 Vivian laughed saying she would think about making a 2006 version of the palace dress. (Picture from tungstar.com)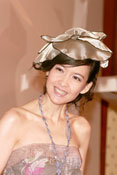 She still looks pretty when leaning her head to the side. (Picture from tungstar.com)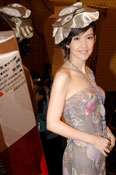 Vivian is currently thinking of a way to bring her cat son Pal by her side and be together with her during her concert. (Picture from tungstar.com)
When counting the big events in the entertainment circle within the past 2 years, there was the category of 'singers making a comeback and having a concert,' which included Chris Wong Hoi Kan, Sam Hui Koon Kit, Paula Tsui Siu Fung, Shirley Kwan Suk Yi, and Donald Cheung Wai Man. But in 2006, it's finally Vivian Chow's turn to be the lead.
It's said to be "finally," because after Jade Girl Master returned to HK, there were constant rumors about her having a concert again, but Vivian didn't take any action, up until the person responsible for the 'HK Non-Profit making Veterinary Service Society' found her. This was the first time after she left showbiz that her heart was moved to having a concert. She will be having three 'Vivian Chow Back for Love Concert' shows from May 25th through May 27th at the HK Coliseum.
'100 pound' shock
VIvian said, "Animals are more significant than any other thing to me. The quickest way to raise money and to let everyone know about this veterinary clinic is to have a concert!" Vivian considered for a very short time before deciding to have a concert at the HK Coliseum, because she knows that she's a master of feeling stressed, and if she thought about it anymore, then it would only drag on the matter for a longer period of time and she'd feel more apprehension the longer she thought about it.
Vivian said, "My thoughts are to act first and then tell others afterwards. I would only dare to tell my boyfriend (Joe Ngai Jan) about it after I've discussed this over with other people. He most clearly knows my character. By having a concert again, he's afraid I'll be very stressed and that it would be very exhausting for me. He would definitely tell me to think clearly before deciding!"
Joe was right. Once the preparation work began, Vivian was busy everyday with meetings and having to think of ideas, practice singing, dance rehearsals, and doing exercises. Even when she's lying in bed, her brain still doesn't want to stop working, and everytime she thought of something good, she would get up out of bed and write down her thoughts. As a result of all this, she unknowingly lost 10 pounds of meat.
Vivian said, "I've always told everyone that I was 110 pounds. Actually, I don't have a habit of getting on the scale often; one day, I suddenly had the impulse to get on the scale and saw my weight and thought, 'hey, what happened?' I weighed 100 pounds! It's been more than 10 years since I was below 105 lbs. The last time was when I was in middle school, and that was when I had tuberculosis and weighed only 100 pounds!"
Vivian knows that having a concert requires a great amount of strength and energy. The '100 pound' shock made her immediately begin her plan of gaining weight. Besides eating lots of ice cream and having night snacks, there was also another way to gain weight. She said, "The thing I like to eat most is cake, especially coffee cake roll. I would eat one roll everyday(!), up until my weight reached 106 lbs. and then I would stop!" It's easy to gain weight and hard to lose weight. After 7 days, Vivian's weight increased to 106 lbs. and she was no longer a bony beautiful lady!
Doesn't want to force Joe
People reminisce the most about the very revealing classic palace dress Vivian wore years ago. Will we have the honor of seeing this dress again at the concert this time? She laughed saying, "When we were discussing about the concert costumes, we didn't plan on adding a palace dress. But after the announcement of me having a concert, there were lots of people asking this question! Maybe we'll think about it and create a 2006 version of this dress, because the old dress was already sold a long time ago, so it's not possible to wear it again!"
Wearing a palace dress isn't a problem, but instead, choosing the songs for her concert is a mental juncture for her. After Vivian stepped away from showbiz, she still loved to sing karaoke, but she would never choose her own classic songs. In order to avoid getting herself into a difficult situation, she would only sing her songs to her good friends. Now that she's having a concert again, there's no reason she should be singing only other people's songs, right?
She said, "The rundown has already been decided. I would be singing about 40 songs, but the time is still too long, so I have to cut a few of the songs. Actually, there's a few classic songs that I've sung so much that I'm afraid to sing them and secretly decided not to sing them again, but now I've given in to the crowd's request and have passed my mental juncture. One of those songs will be the opening song for my concert!"
In order to keep a mysterious feel, she was determined not to leak out any information. Is her opening song going to be "One-sided Love," or "If You Knew My Motive?" That all depends on you finding out the answer.
Guest performers at her concert include her good friends Leo Ku Kui Kei, Chris Wong Hoi Kan, Hacken Lee Hak Kan, Samuel Toi Jing Siu, and Kevin Lam Lung Suen. Of course, everyone is wondering whether her boyfriend Joe would make an exception and go on stage to give his first performance at the HK Coliseum. She said, "Joe going on stage? What are you talking about? He doesn't sing!" The reporter said, "He can do stand-up comedy!" She said, "Actually, he's not an extroverted person. He doesn't feel comfortable on stage, and I don't want to force him on stage. I'd rather he silently support me by sitting in the audience!"
Definitely won't make a complete comeback
As for another important male in her life, her 'cat son' Pal, she's still thinking hard about how to get Pal into the HK Coliseum. She said, "Last time at Sam's concert, I saw him bring his dog at first, but later the HK Coliseum wouldn't allow it, and he had to carry his dog out of the venue. So now I'm thinking about how I can bring Pal by my side and be together with me during my concert."
Vivian and Joe sincerely look upon Pal as if he's their son, so they both already have a consensus on not having children and hope to wholeheartedly take care of all their pets. She said, "A pet's life is limited. We already forsee having to face the separation of us and our beloved pets after their death, but it's no reason to give up taking care of them just to avoid feeling some sadness, right? I want to ensure that they have a healthy and happy life!"
How about marriage? It's not contradicting to be taking care of Pal, right? Maybe Pal also wishes to be the 'flower boy!' Vivian said, "I highly respect marriage, and I'm not really against it. But we currently have a good relationship and also firmly believe the important position we have in each other's heart. It's not necessary to use a marriage certificate to prove anything. Maybe one day we'll suddenly have an impulse to get married!"
Right now, Vivian only has one thing in mind, and that is to have a good concert, because she won't rule out the possibility of this concert being the last time she performs on stage. She said, "After my concert, I would first rest for a while, and then decide what to do. But I definitely won't be making a complete comeback to be a full-time entertainer!"
She's back because of love; Vivian, we're looking forward to "Beloved."