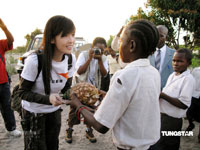 Giving a pineapple to Vivian to express appreciation.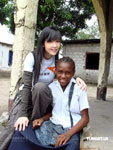 Intimate photo.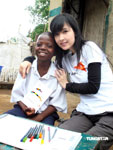 Innocent smile. (Vivian and Willeme)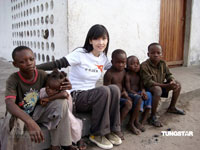 Taking group photo with children. (Tukia is the 1st child from the left; Vivian's sponsored daughter Sarah is the 2nd child from the left)
Christmas is a holiday jubilation around the world. In order to personally send Christmas blessings to impoverished children who live far away, Vivian Chow went together with Hong Kong World Vision and a film crew to the Democratic Republic of Congo last month (10/16-10/23) to understand the World Vision development projects locally and to visit the local impoverished children. This time Vivian is bringing the Christmas wishes of the impoverished children back home to give to the Hong Kong friends. She hopes the Hong Kong people would respond by taking action and joining the child sponsorship program, and letting Christmas this year to be for themselves, as well as increasing happiness for others.
The Congo people have always lived in poverty ever since the past civil war. Also, the majority of the buildings have been ruined by the war. It's very difficult for communities to rebuild. The people's lives are so bitter that they can't bear to speak about it, and the children are the first victims. During Vivian's visit this time, she saw with her own eyes the difficult life of the local impoverished children, making her deeply experience the need to not have boundaries and to give a helping hand to the people in need.
During the trip, Vivian met a family of 5 orphans affected by the war disaster. They made a deep impression on her. Thirteen-year-old Tukia is the oldest child in the family. This young child's life was difficult. He had to bear the responsibility of raising and taking care of his 3 brothers and one sister, because their father died on the battlefield while serving as a soldier, and their mother died from an illness. Vivian really admires Tukia's persistent and mature character. He's brave and has a positive outlook, and takes good care of his younger brothers and sister, which made Vivian feel very touched. Vivian said, "They're all so young and have lost their parents. They're lonely and miserable with no one to depend on. It's very unfortunate. That's why I've decided to help Tukia by taking on the responsibility of taking care of his 2-year-old sister Sarah, and help them walk away from their predicament." Therefore, Vivian immediately sponsored Sarah and became her 'mother.' Before leaving the Congo, Vivian visited Sarah again. When Vivian saw Sarah's cute look while wearing the new clothes, she was so touched and was brought to tears. Vivian didn't want to let go of her child's small hand. They played with balloons together. The small girl's innocent laughter made Vivian melt.
Also, Vivian visited many of the children who were sponsored by the Hong Kong people. One of the sponsored boys was Willeme. Vivian and him went together to attend class. They also read and did drawings together. Willeme is lively and intelligent, and he even expressed to Vivian that his Christmas wish is to have a toy car. Willeme and Vivian were only together for a short time, but Willeme already left a deep impression on Vivian, and the both of them built a true friendship. Vivian also went to a school to visit some of the sponsored children. She collected all of their Christmas wishes, and she also taught them how to sing a Christmas song. As they sang "We wish you a merry Christmas," the atmosphere was filled with the sound of children's innocent and beautiful singing.
Vivian is happy to see how the "Child Sponsorship Program" has brought big changes to the lives of impoverished children. She's fortunate to be their sponsored mother and feels very satisfied and happy. But when Vivian saw how there were many other local impoverished children who haven't received any help, she sighed and appealed, "With Hong Kong being such a prosperous place, it's generally considered easy to achieve the Christmas dreams of our children, but for children in impoverished places, it's not. If the impoverished children could eat one full meal during Christmas, then they're already very satisfied and happy. Let's think about it... in order to fulfill such a simple Christmas wish, you only need to use a little power, and you and I can do this!"