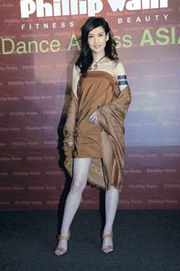 Vivian slightly revealed her shoulders and her slender long beautiful legs, which is already fascinating to people.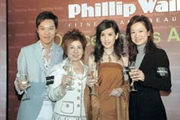 Vivian lifted her glass and toasted together with Phillip Wain's executive, and the press conference host Vinci Wong Yin Chi (left).
Yesterday (3/29), Vivian Chow attended a press conference for a fitness and beauty club. During the event, she talked about her upcoming concert and said her costumes would be designed by Bruce Yu Ka On. As for whether or not she would wear the palace dress which created a stir many years ago, she said if everyone wants to see this dress, then she would agree to everyone's request and would wear a palace dress at her concert.
Yesterday, Vivian attended the "Dance Across Asia press conference" and announced that she signed a HK$1,000,000 (US$128,370) contract to be "Phillip Wain's Female Fitness and Beauty Club's 2006 New Image Ambassador for the Asia Region." But she denied replacing Charlie Yeung Choi Nei and Karen Mok Man Wai's position as the spokesperson for Phillip Wain, and emphasized that the company coordinated different advertising themes for each spokesperson.
Old palace dress already given away for a charity sale
Vivian said she learned how to do a Latin rhythm dance earlier in order to match with the advertisement. She was asked if she would be using these dance steps in her concert. She said, "I've talked about it with the instructor, but only as a joke. The dance teacher is currently planning the dances for the concert, but it won't be too intense." Reporters asked about her costumes for her concert. She said Bruce Yu Ka On would be designing the costumes, and she has also given some suggestions. As for whether or not she would be wearing her classic palace dress again, she said, "I haven't thought about it. If everyone requests that I wear it, then I might consider it. However, the palace dress from many years ago has already been given away for a charity sale. Even if I wear a palace dress, it wouldn't be the same dress from years ago."
Place more importance on her physique; body measurements are secondary
Vivian said the work she's doing as the spokesperson matches very well with the timing of her upcoming concert. She would be able to take advantage of doing more exercises to increase her lung capacity and to build up her muscles. She said, "Everyone thinks I'm a quiet and inactive person, but actually I have many sides to me, such as being active, funny, energetic, and taking the initiative to being passionate." When asked if her body measurements were better than before, Vivian said, "That's just secondary. The most important thing is to have better physical strength."
Since Vivian was the spokesperson for a female beauty and fitness club, does that mean her boyfriend Joe Ngai Jan wouldn't receive any benefits? Vivian laughed saying, "My boyfriend has always practiced body-building. Everyone doesn't need to worry."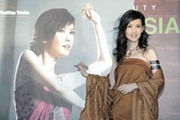 Vivian did a beautiful dance for the filming of the advertisement.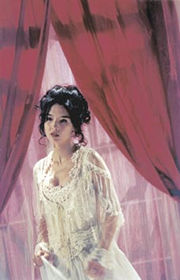 The palace dress that Vivian wore years ago created a stir.