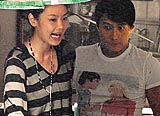 2/23/06
Gaile Lok shot the ball but missed the pocket, so she cried for help, as an excuse to act like a spoiled child at her boyfriend.
Leon Lai and Gaile Lok Gei Yi are madly in love. After it was revealed that they were secretly dating last year in November, both of them have become open with their relationship and are often showing affection towards each other in public. It's rumored Leon told the people at his side that 25 year-old Gaile was good in bed and would do all kinds of actions and not be lazy, making Leon feel very high and going crazy.

Last month on the 23rd at night, Leon and Gaile went out on a date. Both of them went to Joe Ngai Jan's pool hall located at the King's Hotel and played pool for fun. When Leon discovered that there was a reporter taking pictures, he actually didn't stop the reporter. Leon and Gaile even did what the reporter wanted, showing their love for each other, as if it was a reality show.
Leon didn't have to work that night, so he went out with his girlfriend; and in order to comply with her boyfriend who always wants her to be by his side, Gaile would often not show up to work and would ditch her classes to strive for more time to stay at Leon's home, so she could take care of her boyfriend at anytime.
However, sometimes it can get boring when playing at home a lot. Last month on the 23rd, Leon brought Gaile out to play and also asked his good friend Mark Lui Chung Tak and Mark's girlfriend Jade Leung to go play pool at the pool hall which Joe Ngai Jan opened, called Joe's Billiards & Bar.
At 10:00 at night, Leon, who looked very tired and had dark circles under his eyes, and his girlfriend Gaile met up with Mark at the pool hall. Since the pool hall was quite busy that night, there weren't any other open pool tables available, so the 4 of them took turns playing at one table. Leon has good pool playing skills. When he saw that Gaile wasn't playing so well, he personally tried to teach her how to play.
| | | |
| --- | --- | --- |
| | | Every night, Leon had his girlfriend to play with. Leon looks so worn out that the bags and dark circles under his eyes appeared. One phrase says it all, the years of a person's life makes one feel old fast! |
| | | |
| | | When Leon saw that his girlfriend Gaile wasn't playing pool so well, he immediately went to her side to teach her, and made her feel happy again. |
Welcomes reporter to take as many pictures as desired
When they were at the pool hall, Leon discovered that there was a reporter taking pictures. Although Leon sent his driver to walk over to the reporter to ask some questions, Leon didn't stop the reporter from taking lots of pictures and didn't get angry. Also, Leon and Gaile did the full show, as they frequently flirted with each other. When he saw his girlfriend miss the shot, he would have a big reaction and would show a strange facial expression, making Gaile laugh the whole night.
They played until 11:30PM, and at that time, the lady boss of the pool hall Vivian Chow appeared. When Leon saw Vivian show up, of course he wouldn't pass up the chance of playing a friendly game of pool with the lady boss. Gaile was suddenly ignored by her boyfriend and she felt discontented, but all she could do was just stand in the back to watch. She was pouting as she watched Leon play pool with the Jade Girl (Vivian). Seeing her boyfriend completely concentrate on playing pool with another woman and having lots of fun playing, Gaile finally couldn't stand it, so she did something about it.
Gaile ordered a big dish of french fries. At first she looked bored eating the french fries by herself, but the minute she saw Leon have some free time, she took the french fry that she had been eating, which also had her saliva on it, and put the french fry in Leon's mouth. She successfully led Leon back to paying attention to her.
After Leon played 2 games with Vivian, he obediently returned to Gaile's side, and the two of them continued to play pool. They played until 2:00AM, and then had the driver take them back to their home in Happy Valley.
| | | |
| --- | --- | --- |
| | | At 11:30PM, the lady boss Vivian Chow appeared, and Leon immediately asked Vivian to play a friendly game of pool. |
| | | |
| | | Leon was paying attention to playing pool with Miss Chow and was ignoring his girlfriend. All Gaile could do was just look bored eating french fries by herself to vent her discontent. |
| | | |
| | | The minute Leon had free time, Gaile would immediately feed Leon some french fries, successfully attracting his attention. |
| | | |
| | | Leon has good pool playing skills. He played 2 games of pool against Vivian, and he won both of them. |
Improve their relationship while doing exercise
When dating, it's not always necessary to stay at home to do 'indoor exercises' to make things interesting. Sometimes going outdoors to do exercises together is better for their bodies.
Joe and Vivian playing pool

Joe has loved playing American pool for many years. Recently he even opened a pool hall "Joe's Billiards & Bar" with two of his friends at the King's Hotel. Vivian joined in on Joe's interest and also participated in the "American Pool 8-Ball League." The two of them go to the pool hall everyday, playing pool and going out on a date at the same time.