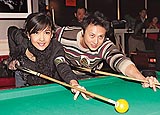 In order to get more business for the pool hall, Joe asked his girlfriend Vivian to cut the ribbon at the grand opening of the pool hall and to demonstrate pool. He even publicized in advance that Vivian will often be going to the pool hall to play.
Last year in October, Ngai Hong (Joe's father) came back to Hong Kong for vacation from San Francisco. He publicly praised his future daughter-in-law several times, saying "It's difficult to find a girl like Vivian. She's smart and pretty. There's no comparison!"
Vivian Chow loves and respects Ngai Hong and his wife, and she loves Joe Ngai Jan even more, by providing money and giving support. This year in January, her boyfriend opened a pool hall at King's Hotel. Joe was an investor, and Vivian also provided money to invest in the pool hall. She even went to the pool hall everyday to be like a walking billboard. Both of them are working together to earn money.
Joe's girlfriend would help him with all kinds of things, even though she's not married to him, so of course Joe couldn't just sit there and not take notice of this. His girlfriend is making a comeback to showbiz on May 26th and is having 3 concert shows to raise money for the "Non-Profit making Veterinary Clinic," so he decided that he would be a guest at her concert and go up on stage, and would even sing a duet with Vivian. If he's not giving money, then he'll give his support!
Getting what she desired

During Vivian's 1994 concert, she wore an outfit which looked like a swimsuit. This time for her comeback concert, she will have 10 outfits, which is more than enough to show off her assets.
In 2004, Jade Girl Vivian came out to be a guest performer at Sam Hui's concert, and her body shape and looks didn't change at all. This then led to her receiving a lot of attention, with sponsors continuously trying to persuade her to come back to showbiz to have a concert, but she turned all of them down, because it's too stressful.

Up until the end of last year, Vivian finally replied to Asia Vigour's boss, Yau Nga Kwai, to make a comeback. According to sources, Yau Nga Kwai was successful in persuading Jade Girl Vivian to sing again because he would give her a high degree of freedom. But the most important thing is that Vivian always showed great love for others, and ever since the beginning, she was hoping this performance would be able to help her friend raise money for the "Non-Profit making Veterinary Clinic" which her friend set up last year. Since Yau Nga Kwai was willing to help Vivian to accomplish her dream and was willing to pay her HK$1,000,000 (US $128,370) for each of the 3 shows, with both parties being happy, the comeback concert was confirmed in the end.
Showing support for everything
Vivian is feeling very nervous about her comeback this time, because it's been 12 years since she formally stepped on stage to perform. Right now she's working hard and having meetings to discuss the details for her concert. In order to let the fans have many things to see, the beginning of the concert will be like a fashion show, showing Vivian's beautiful person and beautiful clothes all at once. The stage design will have an elegant theme.
The production costs for the concert increased greatly because everything is more expensive than usual. However, ever since Vivian announced her comeback, there have been many sponsors rushing to her side. Besides Vivian being the spokesperson for a skincare product and shampoo product, there's also bird's nest soup (saliva of the swallow) products, tonic products, and others fighting to be her sponsor.
In addition, Vivian has personally invited her good friends to be guests at her concert. Hacken Lee Hak Kan and Leo Ku Kui Kei have both agreed to perform at her concert. Vivian also has plans on inviting Sam Hui to come watch the show, and even might ask him on stage to sing. Vivian's boyfriend Joe has also decided to go on stage to show his support and sing a duet with her. Although the details are still being discussed, but with both of them showing their talent on stage together, this would make the concert more attractive. As for whether or not there would be concert shows added, it hasn't been decided yet.
Actually, ever since 2003 when Vivian and Joe returned from Canada to HK to develop their careers, they've both been inseparable. When Joe became the host of the Commercial Radio program "Cool Valley," Vivian attended the press conference and also went on the radio program as a guest host to show her support. This year in January, Joe opened a pool hall at the King's Hotel, and Vivian was a guest at the ribbon cutting ceremony, and has even become the walking billboard of the pool hall, playing pool everynight to increase business.
Last Friday (2/24) at 6:00 in the evening, Vivian was driving her BMW and giving a ride to Joe back to the pool hall. At around 7:00pm, Joe left the pool hall by himself to go to a food stall to buy a bowl of shark fin's soup, vegetables, and pig's blood, and then brought the food back to the pool hall to eat with Vivian. Their appetite is very much like an ordinary person.
2/24 11:20PM
Vivian would be paid HK$1,000,000 (US $128,370) for one concert show, but Vivian doesn't mind about her celebrity status at the pool hall, playing pool with other customers.
Nine out of 10 customers at the pool hall are regular customers. Besides playing pool, Joe also chats with the customers.
7:25pm
Joe's girlfriend is such a good girl, so Joe knows what to do, as he turned into a delivery boy going to the food stall to buy food for Vivian to eat.
6:10pm
Besides being the walking billboard, Big V (Vivian) is also Joe's chauffeur (driver), as she personally drove Joe back to the pool hall that day.
Full of customers
At 9:00 in the evening, the reporter went to the pool hall to look around and discovered that the business was not bad. The reporter had to wait 2-3 pool tables before he was able to play pool. From what can be seen at the pool hall, Joe and Vivian would often be separately taking care of the regular customers. It's not difficult to be aware of this. Many customers came to the pool hall because of Vivian, and she didn't mind having to constantly hold her cue stick to play pool with the customers, playing one table after another table, taking care of the customers for her boyfriend.
During that night, a customer had lost a game to Vivian, and when he saw Joe pass by, he screamed, "No way, I want to play against her (Vivian) again!" Joe then playfully replied back, "We're not scared of you!"
With Jade Girl Vivian playing at the pool hall, it's no wonder that customers are coming to the pool hall. But on the other hand, Joe is very clever with his business. Every time he plays pool with the customers, he would make a bet with the customer, saying whoever loses has to buy beer. This can promote business and also allow him to have good relations with the customers, benefitting both ways.
Besides investing in the pool hall, Joe would also often talk to his close friends about his big future plans, saying "After the pool hall runs smoothly, I hope to invest in creating comic books again!" Joe is a risk taker, and besides, he has a smart girlfriend Vivian who knows how to find money.
There's a market for Vivian after she made her comeback. In 2005, she received HK$5,000,000 (US $641,848) to do one advertisement, and she would receive money each time she participated in a public event. Actually, Vivian is a young rich lady.

Last year in October, Ngai Hong (Joe's father) came back to HK for vacation. On October 8, Ngai Hong had dinner with his friend Choi Lan, and Vivian also accompanied him. (Picture from Apple Daily)

2/25 5:45PM
Joe ate some noodles at a cha chaan teng (literally 'tea restaurant') near his home. He's influenced by his girlfriend's thrifty style.
Earning a lot of money after making comeback
In 2004, Vivian came out of retirement to do an advertisement for Shiseido. At that time, she was already getting paid HK$3,000,000 (US $385,109) for the advertisement. Afterwards, Vivian's popularity increased indefinitely, and her salary for making advertisements kept on increasing. In as little as 2 years, she easily earned more than HK$10,000,000 (US $1,283,697).
2004 - Spokesperson for Shiseido Hong Kong: HK$3,000,000 (US $385,109)
2005 - Spokesperson for Shiseido Asia: HK$5,000,000 (US $641,848)
2005 - DTC jewelry show: HK$200,000 (US $25,674)
2005 - Spokesperson for Pantene: HK$4,000,000 (US $513,479)
2006 - Ribbon cutting ceremony for LV: HK$200,000 (US $25,674)
2006 - Shiseido makeup event: HK$200,000 (US $25,674)
Total: HK$12,600,000 (US $1,617,458)
Reason for singing again
Vivian had her last concert in 1994, and after 12 years, she has decided to make a comeback, just because she wants to help her good friend raise money for the "Non-Profit making Veterinary Clinic" (NPV) which her friend set up last year. Although NPV hasn't officially opened its doors for business, their goal for being set up is "Bringing veterinary service within everyone's means." NPV is only getting back the operating costs and is providing all the service for medical treatment. The purpose of this is to help some of the people who aren't as financially well off and might not be able to afford long-term expensive veterinarian costs for their pets. This will enable their pets to receive appropriate treatment. Vivian is a cat lover. This time she will be giving all of her concert earnings to NPV to build the clinic.
| | | |
| --- | --- | --- |
| | | Vivian has 4 cats and one dog. She even wrote a book about her cat Pal Chow. |
| | | |
| | | Joe was naked when holding his cat. He said his girlfriend screamed 'Wah!' when she saw this photo. |
(Note: not all information in this article is accurate!)