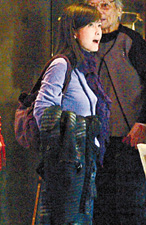 When they were leaving after they finished their meal, Vivian was talking non-stop with her family at the front door of the restaurant. Vivian was bundled up wearing tight-fitting clothes, which showed off her great body shape. (Picture from SingTao)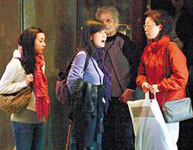 (Picture from ent.qq.com)
For the past few months, Vivian Chow has been busy accompanying her future father-in-law Ngai Hong (Joe's dad) who came back to Hong Kong to have fun. For this reason, Vivian couldn't spend much time with her mother and her family, so last week, Vivian especially brought her mother to an Indonesian restaurant in Causeway Bay. That night, Vivian paid for the dinner to make up for neglecting her family.
A few months earlier, Vivian's future father-in-law Ngai Hong came back to Hong Kong. Vivian, being the daughter-in-law, was busy the last few months accompanying him to places, and also had to arrange his travel route. Her future father-in-law has already returned back to the USA now, so she finally has time to be with her own mother and to meet with her relatives and close friends. Vivian treated them to dinner at an Indonesian restaurant in Causeway Bay last week.
Vivian parked her car at the Leighton Centre parking garage, and then she and her mother, who has to walk with a cane, and a few other relatives got out of the car at the same time and then walked to the sidewalk to wait for everyone to assemble. Vivian waited for a safe opportunity and then helped her mother walk across the street, and then the whole group went into the rather famous Indonesian restaurant called "1968." Vivian chose to sit at a table that was concealed and far away from the entrance.
About 1.5 hours later, Vivian and her mother and the 6 other relatives came out of the restaurant. Vivian chatted with the relatives outside the front door of the restaurant, and then they decided to leave. After Vivian helped her mother get into a taxi, she went back to the parking garage to get her car, and was preparing to give a ride to her 2 relatives back to their home.
Actually the restaurant Vivian went to that night was owned by the family of Jade Kwan Sam Yin's boyfriend, Alfred. The restaurant has been open for more than 10 years. Their famous dishes are reasonably priced, which completely abides by the thrifty girl's principle.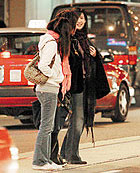 (Picture from ent.tom.com)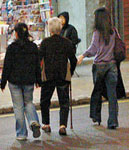 Last week, Vivian especially brought her mother to an Indonesian restaurant in Causeway Bay, because she couldn't spend much time with her family recently. (Picture from ent.tom.com)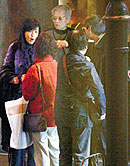 (Picture from ent.tom.com)