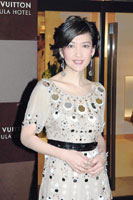 Vivian's jewelry and clothing were flown in from France to HK. (Picture from MingPao)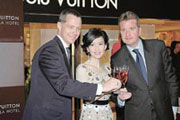 Vivian toasted with the manager of the Peninsula Hotel Mr. Jan Michael Svoboda (left)
and the LV Asia-Pacific region chairman Mr. Francois Delage. (Picture from MingPao)
Louis Vuitton and the Peninsula Hotel reopened its new LV concept store yesterday (1/25). Vivian and the LV Asia-Pacific region chairman Mr. Francois Delage were the guests at the ribbon cutting ceremony for the grand opening. Joe Ngai Jan and Vivian have been in a relationship for many years. Vivian said both of them don't have plans on getting married. Last year, Joe started to give red packets of lucky money, and that's why this year, Vivian also has an itch to give red packets, so everyone has a chance to receive a red packet from her.
For the grand opening yesterday, Louis Vuitton treated Vivian with extreme importance. Besides specially transporting the newest LV spring/summer series clothing from France to HK for her to wear, they also transported an Emprise Champs-Elysees limited edition set of jewelry, which is one of a kind in the world, for her to wear.
Giving red packets is a happy matter
Chinese New Year is arriving soon, and Vivian would be staying in HK to accompany her family and friends. She said, "Last year, my boyfriend started giving red packets, and this year, I also want to give them. Giving red packets is a happy matter, and it's good luck. The person receiving it would be very happy, and I would be very happy giving it." However, Vivian emphasized she wouldn't be giving 2 red packets and said, "Joe can give his [red packets], and I'll give mine!"
Vigorously preparing for pool competition
During Chinese New Year, Vivian has to work hard practicing pool. She's about to participate in HK's first "American Pool 8-Ball League." She wasn't able to practice pool recently because she's been sick for the past 2 weeks, and the pool competition starts 1 week after Chinese New Year, so she needs to vigorously prepare for the competition. She said, "I don't have any ambitions to be the champion and didn't think about becoming a professional player. I just want to influence more females to learn how to play pool. I'm already very happy knowing that a girl learned to play pool because of me. I hope an HK woman would be able to participate in the Olympics for pool. Some fans asked me if I could teach them, but my skills aren't good enough yet to teach others. I'll need to upgrade myself first."
Vivian was asked if she was able to keep her good body shape for all these years because of playing pool. She said, "It should have helped, because I often have to stand. I especially like practicing pool after eating dinner, and standing is pretty good."
Also, Vivian would continue to work together with LV. LV had tried to contact her to work together several times before, but they weren't able to coordinate their schedules. She's planning to choose a Chinese New Year gift for her boyfriend from the LV store.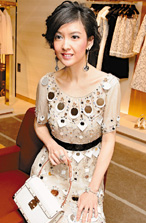 Vivian wore a ring worth HK$390,000, a chain bracelet worth HK$2,600,000, and earrings worth HK$310,000 from the Emprise Champs-Elysees jewelry series. (Picture from SingTao)