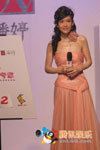 (Picture from music.qq.com)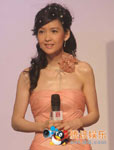 (Picture from music.qq.com)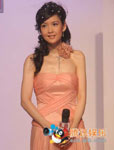 (Picture from music.qq.com)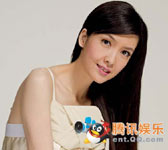 (Picture from music.qq.com)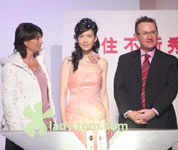 (Picture from lady.tom.com)
Last night (1/11), after leaving her fans for 10 years, jade girl master Vivian Chow appeared in Beijing as the spokesperson of a shampoo brand for their new "nourishing anti-hair fall" product. During the interview, Vivian revealed that this was her first TV commercial after she had returned and said, "I was so nervous the night before shooting the commercial that I couldn't sleep!"
Given a star as a present; being very nervous for her first TV commercial after she returned to showbiz
Earlier, Pantene treated Vivian with great importance and gave her a star. This star is near the stars named after Elizabeth Taylor and the deceased Princess Diana. When this matter was mentioned at the event, Vivian looked very excited and said, "I'm very happy. At first I was planning to look for the star in the sky that night, but one of my fans already helped me find it." Even though the jade girl left for 10 years, it seems her fans still haven't decreased.
Vivian said, before she became the spokesperson for this brand (Pantene), she used the product for one month and thought that the product was indeed good, so that's why she decided to be the spokesperson for that brand. She said, "This is my first TV commercial after returning. It's not only a TV commercial, there's also print ads, so I'm very cautious when choosing what brand to represent. I have to try out the product first before making my decision." The TV commercial came out with good results. Vivian looked natural and very beautiful. Vivian was very nervous the night before the shoot. She said, "I couldn't sleep the night before shooting the Pantene commercial, but after I arrived at the location for the shoot, everything recovered again and the feeling was very comfortable."
Meeting an old friend while shooting the commercial; no plans for making movies or music albums
During the press conference, Vivian also revealed that when she was shooting the commercial, she met one of her old friends. She said, "When I was shooting the commercial, I unexpectedly met a person which I knew before. This person worked together with me in my first movie as a photographer. After I finished shooting the commercial, he walked over to me and said, 'Actually, we know each other,' and after talking with him, I then remembered how we had worked together before."
Vivian also shared some tips on how she keeps her hair beautiful and elegant. She said, "Beautiful hair can definitely increase a woman's charm. We should give good care to our hair just like how we take good care of our skin. But women who are seeking beauty would be worried about their health condition when they often see their own hair fall, and would thus lead to feeling depressed, and also being unable to feel happy while trying to have a beautiful image. I've always paid close attention to my own health problems, so that's why I'm especially happy to see a product appear on the market which could solve the hair falling problem."
Since Vivian is making a comeback and has made her first TV commercial after her return, does she have any plans for acting or singing again? Who knows if it's because she rested for too long or if she sees everything as being boring, Vivian simply replied, "I don't have any plans."
A famous Zodiac sign expert from Taiwan looked at how Vivian's scorpio Zodiac sign temperament was related to protecting beautiful hair. Vivian couldn't help but sigh and said, "If you love beautiful hair, then you have to understand it more. A beautiful girl's Zodiac sign needs to be based on one's own characteristic, and you need to give special love to beautiful hair and to create a fashionable hairstyle which is suitable for yourself." This time working together with this famous brand, Vivian said, "It's Pantene's constant persistence of having a graceful and dignified image, and also their advocacy of a healthy and beautiful point of view from the inside and outside, which attracted me."