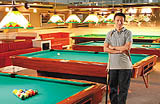 Joe's dream pool hall has 8 American pool tables and 1 snooker table. The tables were bought from the USA and Taiwan and cost between HK$20,000-HK$40,000 (US$2,567-$5,135).
Actually, everyone knows Joe Ngai Jan and his girlfriend Vivian Chow love to play American pool. Recently, Joe has even become a boss, and working together with K.C. City, he will be opening a pool hall "Joe's Billiards & Bar" at the 2nd floor of the King's Hotel in Wan Chai and will be implementing an investment with entertainment.
Joe invested a 6 figure amount of money. On Wednesday (1/4) this week, he accepted an interview with this magazine. He laughed saying, "Pursuing Vivian was the first dream in my life. Opening a pool hall was my second dream." He honestly said that after the grand opening this Sunday (1/8), his girlfriend Vivian would often be at the pool hall playing pool, but he's definitely not worried about Vivian's male fans coming to the place to admire her and just to see their idol. He said, "That would be even better. Then there would be more business! Besides, Vivian plays even better when more people are watching her!"
On Wednesday (1/4) this week at 3:00 in the afternoon, Joe went to the pool hall which isn't open yet to see how everything was. Joe was exposed to American pool ever since he had studied in the USA more than 10 years ago, and at that time, he would spend at least 4 hours everyday playing pool. After returning to HK, he always wanted to open a pool hall, but unfortunately he didn't have this chance. It wasn't until half a year ago when his friend introduced him to the boss of K.C. City, and the two of them instantly clicked.
Joe said, "I like the atmosphere of having a big gathering of friends, but in HK, it's hard to find this kind of place. It was a coincidence that K.C. City had experience in teaching others how to open a snooker's pool hall, and I had no experience in this and didn't want to pay the tuition fee, so this was the best type of collaboration. They're responsible for operating the business, while I'm responsible for the abstract things, such as promoting and publicizing!"
Picture of Vivian playing pool
Although Vivian has often been photographed going to a pool hall, there's never been a photo exposed of her playing pool. This photo of how Vivian looks when playing pool was provided by Joe. This is a very precious photo.
Being the team captain for a public tournament
In October 2004, Vivian participated in the "First Official Pool Billiards Team League in Hong Kong" and was a team captain, but it's too bad she was just setting the balls for her team members and didn't play pool that day.
Give his girlfriend a pleasant surprise
More than 2 months ago, Joe started to make preparations for his 4,000 square foot pool hall. Besides showing in his pool hall the American pool materials and rare photos he collected over the years, he also helped to select the pool tables and lightbulbs, and made sure everything was ok. On the day of the interview, Joe had just went around HK and Kowloon to buy lightbulbs for the lights above the pool tables. Although American pool has already become a common interest for Joe and his girlfriend Vivian, Vivian didn't give him any suggestions when he was making preparations for the pool hall.
Joe explained, "First of all, I wanted to give her a pleasant surprise, and secondly, she's been very busy lately. She came here to the pool hall for the first time just 3 days ago. When she saw the place, she said it was better than what she expected and was more beautiful than what she imagined it would be. She said she really liked it! Afterwards, she came everyday to play pool!" The reporter indicated that Vivian would definitely attract her male fans to come and see her play pool. Joe laughed saying, "That would be even better. Then there would be more business! Besides, Vivian plays even better when more people are watching her!"
The boyfriend is working hard to promote, while the girlfriend Vivian is also working hard to coordinate with him. On Wednesday night, the reporter called Joe, and Vivian was with Joe, and she replied to the reporter saying, "I really like this sport. I can exercise and don't have to be in the sun." The reporter asked, "Are you worried that you'll be watched by your fans when you're playing pool at the pool hall?" Vivian said, "I'm not scared. We can play together!"
| | | |
| --- | --- | --- |
| | | Joe decorated the pool hall with his collection of American pool posters and movie photos which he collected for many years. He said, "When I bought these items, I knew that one day I would have some use for them." |
| | | |
| | | The pool hall has 60 lockers which is only offered to friends and regular customers for their use. Joe and Vivian's private lockers are #12 (right) and #10. Inside the lockers are both of their beloved cue stick leather bags. |
| | | |
| | | Joe found a professional person to custom-make this bar chair. On the armrest of the chair is a specially designed indentation for placing a cue stick. |
| | | |
| | | Joe's dream pool hall must have a bar. He said, "Then this would be like a real American pool hall. If you don't play pool, then you could go to the bar table to chat." |
| | | |
| | | After Vivian had moved to Vancouver with Joe, she was influenced into falling in love with playing pool. This photo was taken a few years ago with their friend Tony while they were playing pool in Vancouver. |
Going for the grand style
The pool hall which Joe invested in is located in Hong Kong, Wan Chai on Jaffe Road at the 2nd floor of the King's Hotel. The King's Hotel opened in 2004. The karaoke lounge at the top floor often has celebrities appearing there. Joe said the customer target of the pool hall is mainly middle class people and every person who enjoys playing American pool. He said, "The fee to play at our pool hall is about 10-20% higher than other places. The cost to play during primetime is about HK$70-$80 (US$9-$10.25) per hour. Happy hour will be about HK$40-$50 (US$5.13-$6.40). We have to be a little grand since we're opening in a hotel."
Celebrity pool friends
On Sunday afternoon (1/8) during the grand opening of the pool hall, Vivian, being the hostess, will be the guest at the ribbon cutting ceremony. She will also be playing in a celebrity pool tournament with her good friends in the entertainment business, such as Leo Ku Kui Kei, Vincent Kuk Tak Chiu, Ronald Cheng Chung Kei, Emme Wong Yi Man, and others. They will be split into two teams to play in the tournament.