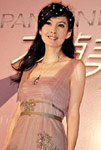 Vivian's hair is filled with stars, which reflects her especially touching beauty. (Picture from Ta Kung Pao)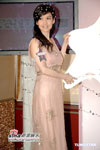 (Picture from ent.sina.com)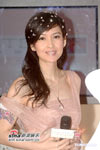 (Picture from ent.sina.com)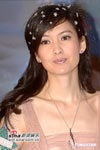 (Picture from ent.sina.com)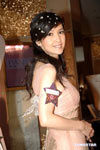 (Picture from efu.com.cn)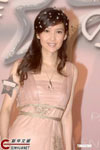 (Picture from xinhuanet.com)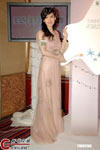 (Picture from xinhuanet.com)
Vivian Chow has had long hair for many years. Recently, she's become a spokesperson for a certain shampoo brand (Pantene), and the contract lasts for 2 years. For this grand occasion, and to coordinate with the advertising theme, "Chasing after beauty. Making the real me shine," the shampoo brand gave her a star that's named after her as a gift. This star belongs to the same constellation as the stars named after Hollywood actress Elizabeth Taylor and the deceased Princess Diana, which is extremely awesome.
Yesterday (12/1), Vivian wore a pink long dress and a headpiece of stars in her hair to attend a press conference. The advertising company especially chose a star in the Cassiopeia constellation and named the star "Everlasting Beauty - Vivian Chow" to give to Vivian. Cassiopeia is originally a Greek word and has a meaning of 'queen,' which means Vivian is as dignified as a queen. Every year, this star is especially bright between the months of October through February and can be seen from HK. The advertising company also issued Vivian a star certificate during the press conference.
Vivian was very happy to have a star named after her, and plus her star was in the same constellation as the stars of Elizabeth Taylor and Princess Diana, which made it even more special. When she was asked if she would tell her boyfriend to find a star and name it after himself, she laughed saying she wouldn't, since her star could shine for her entire family, including her boyfriend and her cats.
Introduce the product to Leo Ku
Vivian honestly said it's been more than 10 years since she made a TV commercial, so the night before shooting the commercial, she couldn't sleep, but fortunately she usually had suffient amount of sleep, so it didn't affect her. The shoot took place in a closed room, and the air conditioner couldn't be turned on, so the environment was very stuffy, but she didn't have a single drop of sweat on her body. She laughed saying when she was acting in historical dramas during the summer time many years ago, she didn't sweat at all. At first, Vivian wasn't quite accustomed to shooting the commercial, maybe because she hasn't acted in a TV commercial for a long time. Fortunately, everything went smoothly and was completed. She also said the new technology used on filming the commercial really got her excited. Before shooting the commercial, she tried the shampoo for one month, and her hair loss condition indeed improved. Would she introduce this product to Leo Ku Kui Kei? She laughed saying she would introduce this to all her friends. In the future, she would like to do some advertisements for new electronic products, but she would definitely not do advertisements for fur, and wouldn't buy fur. If she was wearing fur, it's artificial fur.
Doesn't want Ngai Hong to go back to the USA
Also, during an earlier interview with Ngai Hong (Joe's father), he joked saying Vivian looked like she ate preservatives and said that her look hasn't changed for all these years. Vivian laughed saying 'father' loves making jokes and said real preservatives are usually used for dead people. She said that although 'father' is already 70 years old, but he's like a big old kid, and everytime they ate together, she would laugh so much that her jaw would hurt. Ngai Hong will soon be leaving for the USA and Vivian really isn't willing to part with him. Joe also hopes his parents would be able to stay in HK and have a life together with them.
---
---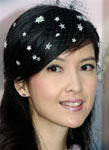 (Picture from photodayoo.com)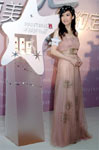 (Picture from photodayoo.com)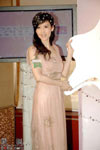 (Picture from ent.sohu.com)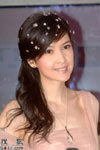 (Picture from ent.sohu.com)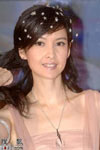 (Picture from ent.sohu.com)