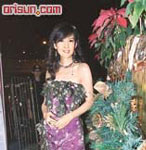 Vivian wore a low-cut shoulder-revealing dress to the event, showing off her beautiful body shape! (Picture from The Sun)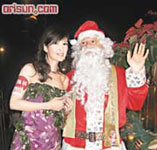 It's the first time for Vivian to take a picture with Santa Claus, and she acted like a child at heart pulling on Santa's beard! (Picture from The Sun)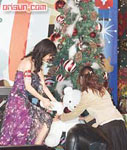 Vivian placed the teddy bear she donated underneath the Christmas tree. (Picture from The Sun)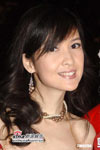 (Picture from ent.sina.com)
Two nights ago (11/26), Vivian looked sexy wearing a shoulder-revealing long dress to attend a Christmas lighting ceremony. That night was actually the first time she took a picture with Santa Claus. When she was taking a picture with Santa Claus, she playfully pulled on Santa's white beard. In the past, she didn't really celebrate Christmas, but this year she's enthusiastic to celebrate and is planning to buy gifts and to warmly celebrate with her boyfriend.
Two nights ago, Vivian, Wilfred Lau Ho Lung, Stephanie Cheng Yung and others attended the "Olympian City Denmark Christmas lighting event featuring the children's choir." Vivian wore a shoulder-revealing low cut dress and went up on an elevated platform for the lighting ceremony. She donated a white teddy bear to give as a present to a child. Later when Vivian was taking pictures with Santa Claus, she said, "This is the first time I'm taking a picture with Santa Claus!" Then she playfully pulled on Santa's white beard, just like a big kid! She said, "When I was in Vancouver before, I didn't really celebrate Christmas. Even when it was my birthday, I made an agreement with my friends that they don't need to give me gifts, because I'm afraid I'll forget their birthday and think it's troublesome to give gifts back and forth. I even joked saying if they gave me a gift, then I wouldn't see them. Now that I'm older, I know that receiving a gift isn't because you're greedy for the gift, and instead represents the person is thinking of you. I understand it's the thought from the person which is most important."
Vivian also talked about the first Christmas gift she received. It was a toy dog that her mom gave her. She said, "When I was little, I would be watching TV by myself on Christmas Eve, and I even asked my mom if there was really a Santa Claus, and as a result, on the next day I discovered that my mom had given me a present."
Making an exception to celebrate the holiday
This year, Vivian has an unusual attitude and is enthusiastic to decorate her home and buy gifts for her boyfriend and friends. But her boyfriend's parents will be leaving HK soon, so she would be mailing gifts to them later. She said, "I suddenly feel like you don't know what's going to happen next in this world, like SARS, so I'm going to live one year at a time, and if there's something I want to do, then I would do it immediately!" What gift does Vivian really want to receive? She said, "I think being healthy is most important. I hope that everyone and my cats and dog are healthy."
Before going to this event, Vivian went to the grand opening of a wedding shop for fashion designer Dorian Ho. Dorian praised Vivian for having a good body shape, but Vivian said, "I'm lazy to exercise, and I don't take good care of my health. I'll still eat ice cream and other sweet desserts." She laughed saying although the wedding shop had a lot of pretty wedding dresses, she currently doesn't have any use for it.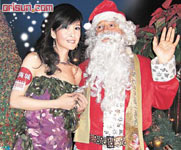 Vivian wore a low-cut shoulder-revealing dress and was pulling on Santa's white beard as she took a picture with him. Together, they presided over the lighting ceremony for the Christmas tree. (Picture from Oriental Daily)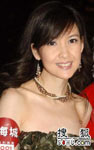 (Picture from ent.sohu.com)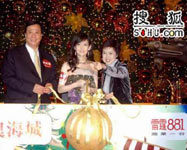 (Picture from ent.sohu.com)