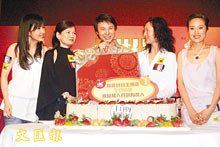 Joe received a dragon-phoenix comforter and would use it tonight.
Joe Ngai Jan's 41st birthday was two days ago. Being his girlfriend, Vivian is considerate of her boyfriend and would accompany his side. On that night, Joe and Jo Kuk Jo Lam needed to attend the "Cool Valley Best Matching Pair of Lovers Contest" event. Vivian has always been low-key, but she went to the event that night and stayed the entire time to show her support, and she even responded to the request of the audience to publicly give the birthday boy a kiss on the cheek. Joe was very excited during the entire night, saying whatever he wanted and wasn't afraid to say things that were taboo.
Shy going on stage to give a kiss
The radio station planned a surprise birthday party for Joe, but towards the end of the event, Joe didn't see Jo Kuk Jo Lam, and he was immediately smart saying, "She's going to roll out a cake. Last night on the radio program, I already got scared by a group of people when they suddenly rolled out a birthday cake and almost had to announce that I died at age 43, ha ha." Jo Kuk pushed out a bicycle to give to him as a gift. Then everyone got excited, wanting to invite Vivian on stage. After the birthday boy cut the cake, the audience requested for Vivian to give her boyfriend a kiss. At first Vivian refused, and the host of the event said Joe is the big man tonight and told him to say what he wanted to do. At that moment, Joe pointed to his cheek, and Vivian became obedient and whined to her boyfriend, "I'm only going to give one kiss!" Then she lightly kissed her boyfriend's face. Vivian's obedient behavior made Joe's heart very happy, and his working partner Jo Kuk also gave him a kiss for congratulations.
7 cats cutting the cake
The radio station especially gave Joe a dragon-phoenix comforter for two people as his birthday present, publicly rushing them to get married. Joe was on stage and was smiling like he couldn't close his mouth. After the event was over, Vivian quickly left in order to avoid stealing the spotlight. The reporter asked Vivian how she celebrated with her boyfriend on his birthday. She politely said, "Before midnight , I arranged to celebrate together with the 5 cats that Joe loved the most, plus the two of us (Vivian and Joe also think of themselves as being cats), with a total of 7 cats cutting the cake together." The reporter asked her when they would be using the dragon-phoenix comforter. Vivian said, "I'll see when he wants to use it." The reporter asked, "You're not going to use it together?" Vivian said, "I currently don't have any plans."
Relationship has surpassed a marriage certificate
The shirt Joe was wearing that night at the event was given to him by Vivian as his birthday gift. Joe said, "My 41st birthday came more happily than my 40th birthday. Usually when a man reaches 40 years old, he would feel nervous and uneasy, as if he's entering another stage. In the past, I've never had such a big birthday party. I felt it was very lively and very happy." The reporter asked, "You celebrated your birthday with 7 cats?" Joe said, "Yes, I'm one of those cats, and I'm even neutered too, ha ha." The reporter asked, "Is Vivian very sad about this?" Joe said, "She thinks the most important thing is that I'm neutered." The reporter asked, "When will you use the dragon-phoenix comforter?" Joe said, "I'll use it tonight. Actually, Vivian and I already have a consensus. Our relationship has already surpassed a marriage certificate, and our way of life together at the present stage is the best. For this reason, there's no need to change. When I have decided to get married, I would definitely make the news public. It's not necessary to hide a marriage, and I'm not against getting married, but now there's no need to get married yet."