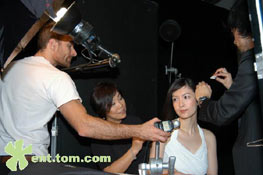 Vivian goes to Japan to shoot an ad. She worked together with an entire Japanese crew.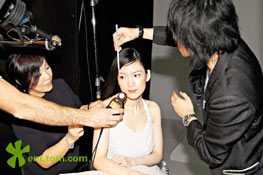 Vivian has white skin. She previously had a horrific experience of freckles appearing on her skin.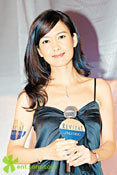 (Picture from Shiseido press conference in August 2004.)
In August 2004, Shiseido released a brand new product, "Revital Wrinklelift Retino Science AA eye anti-wrinkle mask." Shiseido was successful in inviting Vivian to shoot her first skincare ad and to be their spokesperson for this product. The public unanimously gave good comments. Vivian has an elegant image and a confident personality that's filled with intelligence. Plus, she has naturally young and white skin, which is a good match for the concept of Revital's whitening product "REVITAL White." For this reason, Shiseido sincerely invited Vivian to work together again to shoot a new print ad for their "REVITAL White whitening line." With Vivian's white skin, she shows the skincare concept for the anti-aging and whitening product.
Showing her young, soft, and white skin
Vivian's young and smooth skin not only makes people envious, it's also the young and beautiful type of skin that Revital White works to pursue. Plus, Vivian has always been a faithful user of Shiseido's products. With her being the the spokesperson for Revital White, it's naturally the most powerful tool to persuade the people. The new ad especially focuses on Vivian's face to capture her young and soft skin. With her bright white skin that's full of elasticity and her confident look, she beautifully performed Revital White's proactive message of leading the skin to take a step towards brightness. In order to have Vivian give a new feeling that would brighten a person's eyes, the production crew of the new ad especially shot the Revital White ad in Tokyo last year in November. The entire crew was Japanese.
On the day of the shoot, Vivian carefully dabbed on the "Revital White whitening line" product to make her skin look better in order to completely demonstrate her white skin in front of the camera. Vivian had a serious and passionate work attitude, which quickly influenced each crew member. Vivian really enjoyed working together with an entirely new crew this time. She said, "In the past when I shot an ad, promotional photos, and had appearances on stage, I would personally apply my own makeup or work with a professional makeup artist. This time for the new REVITAL White ad, the makeup and hairstyle work was handled by Shiseido's Japan headquarters professional crew, which was a very fresh feeling. The production unit made a special trip to HK beforehand to have a meeting with us to try the image. Everyone thoroughly communicated. This let me be at ease very much. During the shoot, I deeply experienced how serious and professional the Japanese friends are when working. I was quickly into my work when working in this friendly atmosphere. It was a very good experience being able to work together with Japan's top ranked production crew."
Vivian undoubtedly has young, beautiful, and naturally white skin and is the best person to be chosen to promote Revital White. However, Vivian honestly said she absolutely wouldn't ignore the importance of skincare maintenance. "Even though my skin is naturally white, I still pay attention to skincare maintenance in order to have such results. When I first entered showbiz, I didn't know the importance of protecting my skin from the sun. As a result, some freckles appeared on my skin. With my white skin, the freckles were very noticeable. My skin is very sensitive, so I'm very careful when choosing a whitening product. I have the most confidence in Shiseido for my skincare products. REVITAL White is able to help prevent my skin from aging and also to whiten my skin all at once. Plus it has a moderate characteristic. Honestly, this product is a great helping hand in whitening my skin. I especially like the REVITAL Whitening AA product. I only need to massage for 1 minute. Gradually, I noticed that my skin color became more even. The dark spots which appeared when I wasn't careful with my skin in the past have slowly become lighter in color. My skin is even becoming more and more radiant."