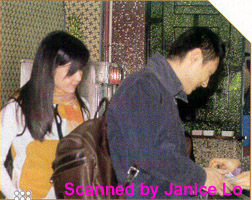 After Joe and Vivian got out of the car, they originally wanted to go play pool, but when they saw the reporter, Joe turned and went to drink some herbal tea.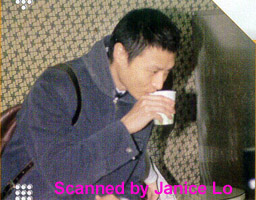 Joe picked up the tea and immediately drank a couple of sips. It seems he needed to quickly cool down.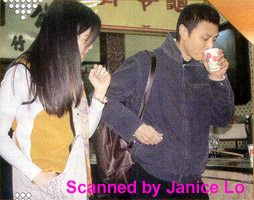 Even though Joe told Vivian several times to drink a cup, she proved to be 'Thrifty Girl' and didn't want to spend the money to drink it.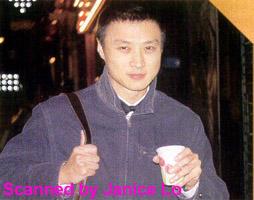 Joe turned around towards the reporter. He didn't get mad easily like he did previously and also warmly complimented his new working partner, Jo Kuk Cho Lam, for her performance on his radio program.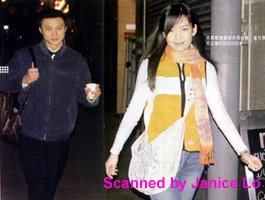 Vivian usually likes to hide from the camera lense, but on that day, she let the reporter take lots of pictures and she didn't get mad. Plus, she was smiling at the reporter.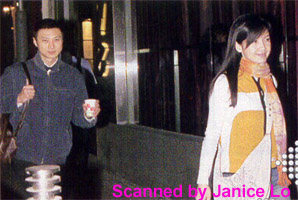 Joe was following from behind and was smiling and didn't yell at the reporter. It seems like he needs to promote his girlfriend for coming back to showbiz.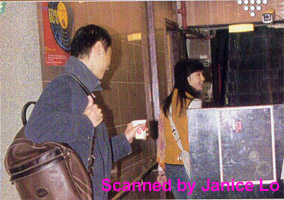 Later, the two of them finally arrived at their hangout to play American pool. It looks like playing pool is one of their recent hobbies.
Artists treat reporters like 'fat pork meat.' When artists need to do promotions, it means they're 'hungry' and they won't reject anything from the reporters. But once an artist becomes popular enough, then they're 'full from eating' and would show a loathing expression towards reporters, or they would ignore a reporter and would sometimes even have angry words towards the reporter.
Joe Ngai and Vivian Chow have been in the entertainment business for many years, and they are no exception. Recently, there were rumors that Joe was in financial trouble and that he was failing in everything he did when he returned to HK. There were also rumors that he needed his girlfriend, Vivian, to return to showbiz to earn HK$10,000,000. Afterwards, Joe had denied all these rumors. Joe was usually impolite towards reporters, but last week, he had an unusual attitude when he saw a reporter secretly taking pictures. He didn't get mad, and actually smiled and greeted the reporter. Vivian let the reporter take as many pictures as he wanted and didn't get mad at all. It seems both of them really have to plan their path towards returning to showbiz.
In 1997, Joe claimed he already earned enough money and retired. Last year in July, he came back to HK and later began hosting the radio program, "Cool Valley." Then there were rumors that his investment failed in a technology company in Canada and he lost money in the stock market. Rumors said he was having financial difficulty, so that's why he was forced to end his youthful retirement lifestyle and had to come back to HK to work a lot, and after earning enough money, he could go back to retiring.
Hindrance in the development
However, Joe's plans were not making any noise. He returned to HK for half a year and had lots of big plans. Recently, it was revealed that he wasn't doing well in everything. Planning the Wesley online game, doing a stage play, and opening a pool hall were all just talk but no action. There hasn't been good results seen yet even from his familiar job of making a magazine or writing articles. The radio show he hosts, "Cool Valley," didn't have ideal listener ratings, and last month, they even changed the female host of the show Nicola Cheung Sat Yuet and found Jo Kuk Cho Lam to help save the show.
Having an unusual attitude towards reporters
Just recently, there's been reports revealing that Vivian would return to showbiz. She would be doing advertisements and would be having her own concert so she can earn money fast. Although her boyfriend Joe has always denied this news, but recently it seems like he hopes to increase his exposure frequency.
Last week on Thursday, the reporter discovered Joe and Vivian appearing downstairs at the pool hall they frequently go to in Lan Kwai Fong. They originally wanted to go upstairs to play ball, but right when they saw the reporter, Joe immediately went to a tea shop nearby to drink herbal tea. Joe was 'afraid' the reporter wouldn't be able to 'turn in his homework.' Vivian usually loves to avoid the camera. When the two of them were leaving, Vivian actually let the reporter take as many pictures as he wanted and didn't refuse. Joe was beside Vivian and even talked to the reporter by praising his new working partner on his radio show, Jo Kuk. He said her performance was very good. It could be said he was doing sufficient publicity for his show.
Crazy about playing pool and isn't practicing her singing
There has been recent rumors that Vivian would have a concert in September and would be working together with Sam Hui in his new movie and sing the main theme song of the movie. However, it looks like Vivian isn't being vigorous in her preparation. The reporter discovered she would go to the "Hong Kong Pool Club" three times a week to play American pool, and when she plays, she plays for half the day. She's still having fun everyday. Could it be that Miss Chow wants to make a comeback by playing pool?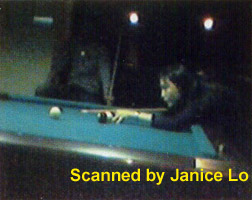 Earlier, this magazine took pictures of Vivian going up to the pool hall to play ball. She looks like she can really play well.