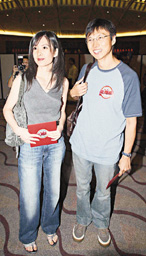 Vivian and Joe went on a date to a movie premiere last year in August, and a short time later, there were rumors Joe would be hosting a radio show. (Picture taken August 2003)
The first generation 'Jade Girl Master' Vivian retired from the entertainment circle for many years. There has often been rumors about her returning to showbiz. Yesterday on the 'East Week' magazine, it indicated she would be returning to showbiz to earn money because her boyfriend Joe's career development wasn't going smoothly.
'East Week' magazine reported Vivian would be having a concert in September and would be doing an advertisement, with a goal of earning HK$10,000,000 (US$1,283,697). She is returning to showbiz now because she wants to use her popularity to do some charity activities for the Society for Abandoned Animals, and also because Joe wasn't successful in everything he did in his career, so she's planning to return to showbiz to help Joe.
In explaining Joe's financial status, 'East Week' magazine said the response to his radio program wasn't ideal, and the sales for the health magazine he manages wasn't good enough. Also, he always wanted to open a non-smoking pool hall, which requires a lot of money, so that's why Vivian was planning to return to showbiz to help Joe.
Yesterday afternoon, Joe responded to the magazine report on the phone. When he knew he was being followed by a reporter, he explained to the 'East Week' magazine reporter: Vivian never said she was officially retiring from the entertainment circle. As long as she has some interest and the job is meaningful and fun, then she would do it, and he would fully support her decision. It's just that there has yet to be a suitable job for her to accept.
Joe said Vivian asked him to help her tell everyone she's living a happy life, and that returning to showbiz for money is just a joke. Joe indicated that they don't spend lots of money, and it's not necessary for Vivian to return to showbiz for money.
Regarding the news about Joe failing in his career, he asked a rhetorical question saying if he's so busy doing work that he can't breathe, and they call this a 'failing career,' then he'd rather 'fail' like this for the rest of his life. He said he was continuously writing articles for SingTao newspaper, but after writing for one month, he couldn't coordinate his time to writing the article and didn't want the quality of the article to be affected by the little time he had. Although he thought the articles he wrote weren't bad, he still wasn't yet able to write even better, so he proposed the idea to the editor that he stop writing the articles. The editor was very understanding of him and told him to continue writing, but because Joe wasn't sleeping very well, he later proposed to the editor again that he stop writing the articles. The editor said if he wasn't able to coordinate his time, then let it be, but he hoped Joe would at least write for 3 months.
Joe said, "Originally, I had a 'say good-bye' article which was supposed to be published yesterday in the newspaper, but because SingTao newspaper changed the newspaper layout, they took out my article so it wasn't published yet, and today 'East Week' magazine found out I stopped writing articles for SingTao newspaper. I don't want to be guessing as to whether or not it was because I wasn't writing articles for SingTao newspaper, and so that's why I was 'framed' as having a 'failing career.' I just thought it was strange. In a word, my conversations with the editor of SingTao were pleasant." SingTao newspaper and East Week magazine are operating independently from each other (SingTao owns East Week), so SingTao doesn't have any link to the East Week report.
Regarding his radio program not being popular, Joe said the listener ratings and the response from the listeners were better than what he expected. He said this wasn't his own imagination, as fairness exists in the will of the people; it's not fair to compare his radio program that has only been on the air for 3 months with another radio program that has been on the air for 7 years.
Would Joe take legal action against East Week? He said, "If this can all be cleared up with legal action, then I would do it. In short, this report has a lot of false information." Miss Kwong of Dung Nga entertainment company stated she talked a long time ago to Vivian about having a concert, but this wasn't carried out yet and they didn't continue the conversation. All along, there hasn't been any progress made yet for this whole matter.