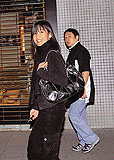 Vivian was walking with a handsome man late at night. When she saw the reporter, she immediately smiled and was not being secretive, showing that she has nothing to hide.


In the field of love, how many professionals used love to steal the hearts?
In the race for love, if you only use the "heart" as a weapon, you could hurt yourself at any time. Only those who deal with love using their brain have their winning ticket strongly secured.
Look at Vivian, she started to date Joe Ngai in 1991, and for more than 10 years, Joe had rumors with Athena Chu Yan, Monica Chan Fat Yung, Ruby Yiu Lok Bik, etc. After several times of separating and getting back together, in the end, Joe still embraced Vivian.
When talking about looks, body shape, and popularity, Vivian is almost similar with her competitors, so how did she become the winner in the end? Vivian, who has a pure and graceful outward appearance, knows how to use her 'brain' to follow her boyfriend's interests. Joe plays pool well, and she also follows. She's a woman who follows her man by his side.

Last Monday (Dec. 15th), late at night 12am.
On the quiet street of Hollywood Road, there was a red colored BMW 318 casually parked on the street. After looking at the license plate, it was discovered to belong to Jade Girl Master Vivian Chow, who has retired from showbiz.
Hey! Jade Girl is out late at night?
When the reporter was going along Hollywood Road towards Lan Kwai Fong to search for Vivian's whereabouts, he coincidentally saw Vivian with a middle-aged handsome man come out from the Hilltop Plaza.
Hey! Hey! Hey!! Vivian and a handsome man are going out alone late at night? Vivian was dressed all in black and was looking beautiful. When she saw the reporter, she was a bit startled, but then she smiled sweetly and openly greeted the reporter, obviously showing to the reporter that she and the man beside her do not have a secretive relationship. She let the reporter take as many pictures as he wanted and didn't get mad.
The reporter asked Vivian, "Where are you going? Out so late?"
Vivian said in a cute manner, "Going to play ball!"
The reporter said, "Play ball? At this time of night, what kind of ball is there to play in Central?"
Vivian was not in a good mood replying, "Play pool! American pool!" Afterwards, she and the handsome man got into the BMW.
The reporter then asked if she had something else to do next. She sweetly replied, "I'm going to the radio station!" Oh, so she's going to pick up Joe from work, which proves even more that she and the handsome man were playing ball and that Joe can be allowed to know about it.
Actually, Vivian doesn't really love to exercise, but previously in order to accompany Joe, she played badminton and tennis many times. It's seldom heard that Vivian plays American pool, however, when everyone knows Joe loves playing American pool and has won first place in competitions, then you'll understand why Vivian plays pool!
Imagine this, when Vivian sees Joe, she could say, "Earlier I hit such and such a ball..." talking a lot about how to play ball, as compared to, "Earlier I bought such and such a clothing." The first phrase increases the love and interest and makes the boyfriend happy!