Joe's 'long term building' meant he would be staying in HK for a while to pursue a career. Joe first tried looking for a new job by asking Sandra Ng to ask Commercial Radio if anything was available, and Sandra told them that he could still attract audiences. Joe tried to flatter Commercial Radio by saying at a public event that RTHK "doesn't know how to respect radio hosts." But Joe opened his mouth like a lion, asking Commercial Radio to pay him a yearly salary of HK$1,500,000 (US$192,555). The radio talk show will be about "issues straight from the heart" and will be on Monday-Friday night. Joe's salary also needs to be higher than Sandra's. Joe noticed that Commercial Radio still did not respond to him, and he didn't hesitate to put Vivian on the table, hinting that he and Vivian could be DJs and host a radio show.
Going to Commercial Radio and cable TV
The reporter tried to get the truth from Commercial Radio and verified that the advertisement of Vivian doing a radio show was only a promotional trick. Joe's actual partner on the show is Nicola Cheung San Yuet. The exact date for the start of Joe's show hasn't been confirmed yet, but it's not what Joe had previously said, "at the beginning of September."
Commercial Radio 903's head producer Wong Jung Hoi replied back in a fax saying, "CR903 and Joe both believe sincerity comes first, and money comes second. Joe is receiving a sincere price!" It was obvious they were being vague about Joe's salary. The middle of next month would be the earliest time that Joe would be able to start his show. He's waiting for Commercial Radio to give their approval that his ideas aren't 'out' before starting his show.
Joe not only went to Commercial Radio to look for a job. He also tried to find a job at the HK cable TV station. He took the initiative to suggest working as a host for the entertainment channel, with the program being on three times a week at night, and the program would be like an 'entertainment judge' talking about the things happening in the entertainment circle. He wants to equally rise and fall with Sandra Ng. That's why Joe earlier became high-key and accepted an interview by Sandra on her show, 'Truth About Entertainment,' using something ordinary to get something better. But cable TV still didn't have any reaction. The chief editor Yue Wing San said, "It's just an interview! Will we ask Joe to be a TV host? We don't know yet, but we did ask Eric Tsang Chi Wai's daughter, Tsang Bo Yi, to be a host for a TV show. Cable TV really wants to ask Eric and his daughter to both be hosts, and then it would definitely be attractive!" It looks like it's not easy for Joe to get a job at Cable TV.
| | | |
| --- | --- | --- |
| Joe did an interview for Sandra Ng, and his attitude was unusual as he openly talked about his current girlfriend and past lovers and also about his rival suitor. | | |
| In 1991, Joe was a popular DJ at RTHK. Today, in order to give CR a good impression, he turned around saying RTHK "doesn't know how to respect radio hosts." | | |
Vivian needs cash, selling apartment
Vivian naturally has to give her support when Joe came back to HK to find a job. Actually, early this year, Vivian had tried selling her San Francisco Towers apartment #2 located in Happy Valley. She bought the apartment in 1996 for more than HK$7,000,000 (US$898,588) and was selling it for about HK$5,000,000 (US$641,849), but nobody was interested. During the middle of this year, she lowered the price to HK$4,700,000 (US$603,338), but it was still not possible to sell. However, this apartment was taken off the selling market recently. It's believed that Vivian is a careful planner, and she saw how 'China residents can visit HK as individuals, rather than as part of a tour group,' which is helping to slightly improve the HK economy, so she wants to look closely at the real estate market before making a decision.
Mr. Wong, a real estate agent for a real estate company in Happy Valley, said, "Yes, it's true there was an apartment owner from San Francisco Towers who was recently selling their apartment and then later took the apartment off the selling market. The owner said they want to take a closer look at how the market is doing first!"
Joe has a part in Vivian's real estate
In 1991, Vivian and her mother Tse Lai Yue created a company called Deekai Ltd and invested money in the high-rise apartment #4 at San Francisco Towers in Happy Valley. In 1996, Deekai Ltd. bought the #2 apartment which was on the same floor, and it's rumored Vivian and Joe live together in this apartment.
In 1998, Joe's name was suddenly included in the list of board members for Deekai Ltd., and his reported home address is confirmed to be the #2 apartment. Since Joe is a board member of Deekai Ltd, he also becomes part owner of Vivian and her mother's 2 apartments.

You can see the race track from San Francisco Towers, which is located at a quiet location. It's no wonder Vivian bought 2 apartments in 5 years.


Living in apartment #4.
In 1991, Vivian bought apartment #4 and lived there with her mother.





Selling #2 apartment
In 1996, Vivian bought the #2 apartment which was directly across from the #4 apartment. It's rumored she's living with Joe in the #2 apartment. Earlier, this apartment was up for sale and was then taken off the selling market. On the door of the apartment, there was a note for the mailman to deliver all the letters and packages to #4 apartment.


In 1991, Vivian and her mother created Deekai Ltd. The address on the business registration for Vivian and her mom said San Francisco Towers, Apartment #4.


In 1998, Joe's name was included in the list of board members for Deekai Ltd., and his home address on the business registration is the same apartment which Deekai Ltd. bought, the #2 apartment.

Life in Canada was going downhill
In 1995, Joe sold "Yes!" magazine, earning close to HK$10,000,000 (US$1,283,697) in cash. Vivian was in a rush to retire and went to Canada to live together with Joe. These past 6 years, Vivian's lifestyle was leisurely and relaxing, playing badminton, walking her dogs, and in recent years, she's been concentrating on painting.
As for Joe, there were very few people who knew what he was doing in Canada. Even his own father, Ngai Hong, didn't really know. One of Joe's friends revealed, "He (Joe) is a very mysterious person. Nobody knows what he's doing, unless he himself actually says what he's doing. Even his own father has to listen to what other people are saying in order to know what his son is doing!" Although Ngai Hong and Joe have a father/son relationship, both of them have always been clear about the separation of money and their relationship. Back then when Ngai Hong wrote articles for "Yes!" magazine, he had to ask Joe to pay him for publishing his articles. That's why Ngai Hong has never asked his son's money condition.
According to rumors, Joe has always wanted to be the president of a publicly traded company, and "Yes!" wasn't able to fulfill his desires. Joe claimed himself as being one of the smartest people in Canada. A few years ago, he saw the upsurge of I.T. and computer game software was profitable. Joe put in lots of money on this investment, but unfortunately there still has not been any profit made. For several years, he would continuously put more money into his investment, but it is still not enough to turn things around, plus the technology upsurge has lessened, and Joe's investment was unfavorable. Since Joe couldn't become the second Bill Gates, the CEO of Microsoft, and to prevent himself from losing more money, he would have to go back to HK to taste success again and first become the second 'Cheng Dai Ban.'
During the interview with Sandra Ng, Joe said, "I have a lot of things to do after returning to HK, and high technology is one of them. Right now, HK has a 'sickness,' and I can't help HK to return back to normal and didn't bring ginseng to visit him, but I still brought along a bottle of grape juice." (meaning he didn't bring back lots of money, just a little bit).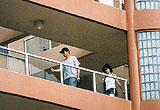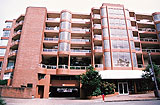 Joe and Vivian had rented an apartment in Vancouver before and were living together. But because Joe was so mysterious, he would often move to another house to avoid the reporters. His actual home in Canada is still unknown.
Siu Kwok Wa: he wouldn't contact Joe again

Siu Kwok Wa and Joe's friendship was just like brothers. Back then, both of them including DJ Leung Kai Cheung would host a radio show on RTHK every week called "3 Lonely Hearts." This program was very popular among younger men and women. Nowadays Siu Kwok Wa and Joe are like strangers to each other.

Joe says he returned to HK to 'visit the sick,' but the truth is he's trying to find money. Joe's former friend, Siu Kwok Wa, was also not mad at Joe. Back then, they both started "Yes!" In the end, they were no longer friends because of money matters.

When asked about Joe running off to Canada back then, Siu Kwok Wa helplessly said, "This happened such a long time ago. I don't want to talk about it! Am I still friends with him? I guess so! However, there are many types of friends. Some friends you would never contact them, and they wouldn't contact you either! Why don't I contact him? Haha! I don't even have his phone number. Besides, I have friends all over the street!"






Vivian took her cat to see the doctor by herself
Joe returned to showbiz to find a job. As Joe's girlfriend, Vivian has always showed her support for him, either financially or by her actions. But recently, Joe has only been focused on returning to Commercial Radio to do work and frequently leaves his girlfriend by herself. Vivian was by herself when she was walking on the street or when she was bringing her cat to see the doctor. She was extremely lonely.
During this Tuesday on 9/16 at around noon, Vivian was alone leaving her Happy Valley house and went to a petshop called Miss Pet on Yik Yam Street. At that moment, Vivian looked worried and sad and would constantly be talking on her cell phone. After going to the pet store to buy a bag of cat medicine, Vivian walked quickly back home. At 6pm, Vivian came out of her house again, and her Filipino servant came out holding a pet cage. Inside the cage was a short-hair, brown color cat.
Soon after, Vivian drove her car to a pet clinic. It was obvious her pet cat was sick, and it's not surprising that Vivian couldn't concentrate on what she was doing that day. At night on Wednesday the 17th, Vivian went with her servant and her cat again to the pet clinic to do a follow-up examination. She looked even more worried compared to the day before. After she parked her car in front of the clinic, she said to the reporter, "Could I please trouble you to help me put in 45 minutes for the meter? My cat has a fever and I'm in a rush to go inside so he can see the doctor."
About half an hour later, Vivian looked happy as she came out of the clinic. It looks like her cat wasn't sick anymore. She was polite in accepting the reporter's interview and said, "I'm going to do a radio show and be a DJ? No, I won't be temporarily, as I'm very busy now writing a book about pets. The book should be released in December." The reporter asked, "Are the rumors true about Joe failing in his investment in Canada?" Vivian suddenly looked unhappy and was very surprised, saying, "No... we didn't make any investments." The reporter then asked, "Then were you selling one of your apartments?" Vivian replied, "No, I still have the 2 apartments." After saying this, Vivian quickly left. For the past few days, Vivian repeatedly had to rush to places for her beloved cat and was endlessly worried, while her boyfriend Joe didn't accompany her. Is getting more money more important than anything else?

September 16th, noon time.
Vivian walked to the pet shop to buy some cat medicine. She looked worried.


September 16th, night time.
Vivian and her servant bring the cat to the doctor, but on that day, the cat still looked quite sick.





September 17th, night time
Vivian brings her short-hair cat to the clinic again to have a follow-up examination. When asked about Joe's failure in his investment, she avoided the question and didn't answer.





'Next magazine' picture on file.

Joe's dirty works
Joe has a mysterious style of handling matters, and he would do everything on his own. For many years, people have criticized his bad behavior.

Using public media for his own personal matters
In 1991, Canti Lau Sek Ming openly admitted that he had good feelings towards Vivian, making Joe's jealousy grow. Joe didn't hesitate to use Siu Kwok Wa and his created "Yes!" magazine to punish Canti with his writing, creating the 'Cancer Ming' nickname. At that time, Canti was beginning to rise in his position at TVB, but after this incident, Canti's popularity dropped and he wasn't able to step foot in the HK entertainment circle. In the end, Canti had to go to Taiwan.

Betraying his friend for glory/money
In 1995, Joe suddenly disappeared. It was rumored that after Joe cheated Siu Kwok Wa out of all his company stocks, he immediately sold the stocks to one financial group, earning more than HK$10,000,000 (US$1,283,697) and quickly left HK.

Can't be friends anymore and not talking
In 2000, Ruby Yiu Lok Bik revealed that Joe had tried to pursue her. Joe also tried to deceive Ruby by saying his and Vivian's relationship was only a brother/sister relationship and that Vivian wasn't his real girlfriend and was only his girlfriend by name, making Ruby believe what he said. During that time, Joe would often go to the beach with Ruby to look at the stars. He would also record the TV show which Ruby likes so she could watch it. But in the end, Joe and Ruby separated. Joe immediately denied anything happened and publicly announced that he is no longer friends with Ruby.

Won't take responsibility
In 1997, Joe and Vivian were living together in Vancouver. He accepted an interview with 'Next magazine' while he was there and frankly said, "I didn't think about marrying Vivian."



The days Vivian is with Joe
Vivian and Joe have been in love for 13 years. During that time period, there were constant rumors about them separating and getting back together again, but each time the starter of the crisis is the male, while the female is being faithful for the whole journey. However, until this day, she has yet to get married to Joe.
1985
Vivian gets to know the lead singer of the Raidas group, Thomas Chan Tak Cheung. They dated for 6 years and then separated. Afterwards, there were rumors about Vivian and Chris Wong Hoi Kan being together.
1986
Joe and Michelle Lee Ka Yan are in love with each other. After Michelle won the Miss HK pageant in 1988, she separated with Joe, and during the same year, Joe pursued Vivian.
1991
Joe was madly pursuing Vivian. In his own creation of the "Yes!" magazine, there would often be news about Vivian and her pretty pictures, and he was successful in making the beautiful person happy. During the same year, Canti Lau tried to pursue Vivian, while Vivian and Leon Lai had rumors about them after they acted in the movie "Fruit Punch." (Yes! Yat Juk)
1994
Vivian revealed to the media that she has a Japanese boyfriend. In the same year during October, the gossip magazine found out Joe was living with Monica Chan Fat Yung in Palm Springs, New Territories, HK.
1996
Joe and Vivian get back together again. At the same time, Monica Chan admitted to being separated from Joe for 5 months.
1997
Vivian officially announces her retirement from showbiz. In the same year, Joe was one of the judges for the Miss Asia pageant and he met Ruby Yiu Lok Bik, who was married at that time.
1998
Joe wrote a rather unpleasant prologue for Ruby's pictorial book, and because of one phrase, "Ruby and I reached a very high point/level when we were talking together," this started rumors between them.
2002
Vivian and Joe come back to HK for Chinese New Year. When they were being interviewed by the reporters, Joe agreed to pass out lucky money to them, but Vivian later denied being Mrs. Ngai.

Canti Lau Sek Ming
'Apple Daily newspaper' picture on file.





Monica Chan Fat Yung


Ruby Yiu Lok Bik
(Note : Don't believe everything you read in this magazine!)