The first half of a Jade Girl


| | |
| --- | --- |
| | In the past, Vivian's "Jade Girl" image made people think of nothing. Yet she "surprised" many people with the debut of these "palace dress" photos. |
Vivian Chow the Jade Girl finally said goodbye to the entertainment circle. It's time to review her first half life.
According to the rule of HK entertainment circle, a jade girl can't survive with only one kind of skill. Being sexy, showing body parts, and wild acting are done by many others.
This is not a talk about something bad about someone and making fun of it. It's a farewell give-away.
| | |
| --- | --- |
| | |
| Besides the palace dress, this "low cut tight dress" should take your breath away! | Finally Vivian can put down her "Jade Girl" position. The Atlantic City farewell concert already became the headline on most magazines. Guess it could make her feel like she retired with glory. |
Everyone said Vivian doesn't have any good films in her filming career, but if you pay close attention, you can find some memorable shots. Below is the most extreme ones.
The Wildest Performances

| | | |
| --- | --- | --- |
| | | |
| In "Fruit Punch" (Yes! Yat Juk) (1991), Vivian's dress was very sexy. The last kissing scene with Leon Lai reached her own limit in her filming career. | | Vivian is smoking? Yeah! The script said that after they (Vivian and Leon) had sex, they take a cigarette. After Leon took some, he passed it to Vivian. |
| | | |
| --- | --- | --- |
| | | |
| Still in "Fruit Punch", Vivian and Leon are rolling on the ground just for fun. Look, Leon's head is on Vivian's chest. Whoa! | | How heavy is Vivian? Besides Joe Ngai, Leon should also know about it. Leon! Take this! Can you hold onto this?! |
Fight With a 300 pound macho man
In "Girls Without Tomorrow" (1992), Vivian plays a "not so famous" star who used her body to exchange for money and glory. In this scene she's dealing with a 300 pound macho man. Although there's no sex scene, but the concept behind the scene is very extreme.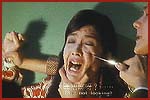 Got her face scratched for Brother
In "Arrest the Restless" (1992), Vivian got her face scratched for Leslie Cheung (aka Goh Goh "Brother" these days), and also got raped by many bad guys (of course, the director didn't film that part!)
Joe and Vivian become fairies on big screen

| | |
| --- | --- |
| | |
| Joe Ngai and Vivian Chow will get married soon. In "Devil's Vendetta" (Yiu Moh Do) (1991), they even become fairies?! | |