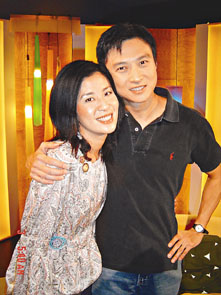 The host of 'Truth about Entertainment,' Sandra Ng Kwan Yu, invited Joe to be a guest on her show. Joe talked about how he's been doing lately and about relationship matters.


Last night, Sandra Ng invited Joe to be a guest on her show 'Truth about Entertainment.' Joe talked about how he's been doing lately and about relationship matters.
During the show, Joe stated that a few years ago, he had decided to give up everything he was doing in HK because he's worked for several years and was feeling both physically and mentally tired, so he flew to Vancouver, Canada. He learned how to take care of himself and at the same time, let himself have more time to entertain himself by playing pool and snow skiing. He was able to improve himself. He believes after he left HK, the biggest change was that he has more love and understanding/forgiveness. He said, "In September I will be hosting a radio show on Commercial Radio, and I hope to be objective and calm as I bring out my love and understanding.
During the TV show, Joe not only talked about his girlfriend Vivian, he also talked about how he felt about Chris Wong Hoi Kan, as well as the grudge he had on Canti Lau Sek Ming many years ago. Joe revealed what his true relationships were with Michelle Lee Ka Yan and Ruby Yiu Lok Bik.
Sandra Ng jokingly asked Joe about what he said during a movie premiere earlier, regarding him saying he has to keep a close watch on Chris Wong. Joe replied, "I know he (Chris) wouldn't mind if I said this, so I said it. Actually, I kind of admire him. Even though we seldom see each other, we still talk on the phone."
Joe also explained on the TV show about the grudge he had against Canti Lau. Joe said, "Actually I started dating Vivian in 1989. Everyone in the business knew about it. Canti knew Vivian was my girlfriend, but yet he still wanted to pursue her... it could be said that 'Cancer Ming' was created from my pressure of having to counterattack... I don't agree with people saying that Mr. Lau's career was ended by 'Yes' magazine and what I wrote. He later went to Taiwan to work and the results were quite good. You ask me if I regret what I did, I would say I don't regret it, but if this were to happen to me today, I might not have done the same thing. Looking back, this was just a small matter."
Joe also said that being a man and seeing his own girlfriend being pursued by another guy, it's only natural he would mind. Plus, he's a type of person who feels insecure.
When Joe mentioned Michelle Lee, he immediately explained, "First I have to make a statement. There's a slight misunderstanding. Michelle wasn't taken away from me by another man. Back then, Michelle was very young, and I was 6 years older than her. Our dating was very indistinct, which is what you might call puppy love. Strictly speaking, we did have associations with each other, but we did not date. We had on and off associations with each other for two years, and then in the end, we separated peacefully. There was no third party involved."
As for Ruby Yiu, Joe said, "The relationship with Ruby is a big joke. We never held hands and we never kissed and we never made love, so how could we have dated?" We did write letters to each other, but we seldom ever met each other in person."
When talking about Vivian during the show, Joe openheartedly said he felt Vivian likes him quite a lot. When Sandra asked questions about marriage, Joe replied, "Getting married or not getting married is a decision made by two people. If we do get married, we wouldn't keep it a secret and would tell everyone about it. At this moment, we are still learning how to be with each other."
Sandra also asked if he were to get married, would he have children? Joe said, "I won't think about having kids. We might consider adopting a child. I've seen many bad boys and don't want to have my own bad boy to make myself angry."