9. When leaving Windsor Plaza, Vivian gently put her hand on Joe's shoulder, and she showed a happy smile, making a person envious and jealous.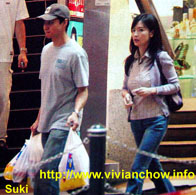 10. Even though both of them didn't hold hands while walking on the street, they still looked very much in love.


11. Both of them walked to the parking garage to get the car.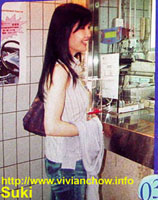 12. Vivian was responsible for paying for the parking fee. When the reporter appeared, she was a little surprised.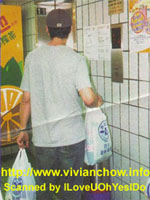 13. Joe first went to push the elevator button. Right when he saw the reporter, he immediately went into the elevator to go and get the car.
Going on a date to have dinner and walking around in the supermarket; sweet and happy
It was rumored Vivian retired from the entertainment industry many years ago because of her boyfriend, Joe, who has a dominant male characteristic. They have loved each other for more than 10 years, with Joe having rumors more than once about there being a third person involved, plus these past few years, Joe and Vivian were seldom seen together at public events, so then there were rumors about them separating. But in reality, their relationship is very stable. Yesterday (July 3rd), the reporter spotted Vivian and Joe having dinner together at Causeway Bay and also saw them go to a nearby supermarket to buy food and everyday items. Both of them didn't hold hands while walking on the street, but just by looking at the smile on Vivian's face, you could see the word 'happy' written on her face.
Eating dinner for two hours
On July 3rd at 6:30pm, Vivian drove her BMW, which she bought many years ago, to the crowded and lively Causeway Bay. Vivian parked her car in a parking garage across the street from Windsor Plaza. Then she quickly walked to a Western restaurant at the back street. Even though Vivian wore light makeup and dressed very casually, there were still many people who recognized her. Vivian arrived at the restaurant for no more than 2 minutes, then Joe, who was wearing an almond colored cap, came running from a distance to the restaurant. It seems he was worried Vivian might have been waiting for a long time.
After going into the restaurant, the two of them started to order their food. Although there was a time when Joe went outside the restaurant to talk on the phone, he just talked for a few minutes and then went back inside the restaurant to continue having dinner with Vivian. At the restaurant, the two of them were eating and talking, and the atmosphere was rather pleasant. It's kind of hard to believe that a couple who has been together for more than 10 years would still have such a good relationship and would still be able to talk non-stop about things.
It took 2 hours for them to finish their dinner. They left the restaurant at 8:30pm. Afterwards, Vivian and Joe went to the supermarket at the basement of Windsor Plaza. As Joe was walking on the steps in front of Windsor Plaza, he almost tripped and fell on the ground, and Vivian quickly held on to him and gently asked him if he was ok.
Vivian's phone suddenly rang when they were in the supermarket. She was at the seafood area and talked on the phone for 5 minutes. Meanwhile, her boyfriend Joe was doing what a househusband does, going everywhere to look for any everyday items that needed to be replenished. A lot of insects have been coming out recently, probably because of the weather change, so Joe went to the shelf which had insect killer. He picked up several different kinds of insect killers to examine, and he was so careful that it was kind of hard to believe.
Vivian finally finished her phone call and then started to look around for her boyfriend. After they found each other, they continued with their shopping. Fifteen minutes later, both of them pushed the cart of items to the cash register to pay for the items. They had bought Coke which was on sale, some seasoning, several packs of meat, and the insect killer which Joe had previously looked over. After paying for the items, Joe put the items they bought into the bags, and then he carried the bags and they left.
While they were walking out of Windsor Plaza, they were recalling something in their minds which made both of them laugh, and Vivian gently put her hand on Joe's shoulder. Her smile at that moment completely showed the word 'happy' engraved on her forehead, which made many women both envious and jealous. Both of them walked and laughed to the parking garage, and then Vivian took out the parking ticket and went to pay for the parking fee, while Joe pressed the elevator button and waited for Vivian.
Small smile saying good-bye
Now, the reporter walked up to Vivian and stated his reason for being there. Vivian was very polite and looked towards the reporter. At the same time, Joe saw what was happening and immediately got into the elevator to get the car, leaving Vivian by herself to talk to the reporter. The reporter mentioned to Vivian about her good friends who recently returned from retirement to have concerts and asked her if she would have the same plans. She said "uhm..." and it seemed like she wasn't able to think of an answer yet, but then she quickly got into the elevator. But right when the doors were about to close, she showed a sweet smile and said good-bye to the reporter!
Actually, someone was willing to pay a high price to invite Vivian to come out of retirement, but she's still not moved by this, because Vivian has finally got what she waited for after the 10 year relationship, which has had its good and bad times. Vivian finally has what a woman wants the most, 'happiness.'
| | | |
| --- | --- | --- |
| 14. When asking Vivian about returning to showbiz, she only said "uhm.." and then smiled while saying good-bye. | | 15. "Thrifty girl" is still driving her red-colored BMW car until now. She hasn't changed her car for many years. |