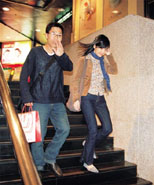 2/25/03 - Downstairs at Windsor Plaza in Causeway Bay at 3:00am.
Closer picture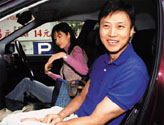 2/25/02 - Generously handing out lucky money (picture from Apple Daily newspaper) ;
Last year in mid-February, the talented couple Joe Ngai and Vivian Chow had a rare photo taken when they were out on a date together. When reporters asked Joe for lucky money, Joe didn't refuse, which then started rumors again that both of them were getting married, but this year both of them haven't been seen together out in public.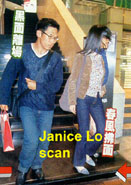 Leaving with an angry face (male);
Looking happy (Vivian)
Around 3:00am that night, Vivian and a male companion came out of Windsor Plaza. The male companion looked similar to William So Wing Hong. As soon as he saw the reporter, he became angry, and walked quickly down the stairs. Vivian, however, had a smile on her face and looked great.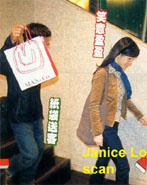 Sending the guest out with a paper bag (male);
Smiling sweetly (Vivian)
When the male saw the reporter who wouldn't go away, he held up the name brand paper bag to cover his face, but Vivian still had a smile on her face. The jade girl definitely has the power to make people feel good.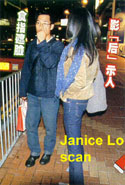 Using the index finger to cover his face (male);
Taking a picture of her back (Vivian)
When the two of them were walking on the street, Vivian asked the reporter to stop taking pictures, but since that didn't work, she decided to show her back. Her slim sexy body was just like many years ago.
Jade Girl Vivian Chow has been away from showbiz for 7 years. For several years, she was rarely seen at public places. However, since last year, she's appeared several times at places which had lots of people, but it seems to be a coincidence that the 'chosen one' Joe Ngai is missing by her side each time. Early in 1998, there were rumors that Joe and Vivian had secretly gotten married in Canada, but during last year, both of them have strongly denied these rumors.
Last week, Vivian was seen out in public, but there was a new male companion by her side. The reporter saw Vivian with a man who looked similar to William So Wing Hong, but he had darker skin and was muscular. Vivian and the man were seen singing karaoke in the same room at a karaoke place in the upper floors of Windsor Plaza, and they sang for 5 hours. It's still a mystery as to who had the luck of staying with a jade girl in a tiny room, but everyone is worried about what would happen if Joe Ngai found out.
This year Vivian is 35 years old. She stepped out of the entertainment circle in 1996. She was able to captivate many males with her jade girl image in her singing and acting. She and Joe have been together for 7 years, making many people envious and jealous. But there have been some set backs in Vivian and Joe's relationship, as both have had rumors with other celebrities before and after they dated each other.
Talented guy and jade girl have many rumors
When Vivian first entered showbiz, she was rumored to have dated the past singer Thomas Chan Tak Cheung for several years. Before Vivian entered showbiz and became a DJ, she had rumors with other male singers, such as Hacken Lee Hak Kan, Chris Wong Hoi Kan, and George Lam Ji Cheung. Most people remember the love rumors between Vivian and Canti Lau Sek Ming, and it was always rumored that Canti was the targeted subject of a magazine which was owned by his rival suitor, Joe Ngai.
Many years ago, Joe Ngai and Siu Kwok Wah worked together to create Yes!" magazine, and Joe was praised for being a talented person. Before Joe dated Vivian, it was rumored he had a relationship with Michelle Lee Ka Yan, and later, Monica Chan Fat Yung and Ruby Yiu Lok Bik were both rumored to be the third party in Joe and Vivian's relationship. Even though Joe and Vivian had many rumors around them, in the end, they became lovers, and there was widely spread news about them both immigrating to Canada a few years ago.
Vivian, who is talented and beautiful, gave up her entertainment career and is now concentrating on practicing how to paint and is hoping to develop her interest of many years. This year during mid-February, Vivian's painting was displayed at an exhibition at City Hall in Central, which showed her talent in painting. Overall, it's already become a reality that Vivian has stepped out of showbiz, but there are people in the entertainment circle who are still very interested in her.
Fans were cheering as jade girl appears
For the past 2 years, there have been several singers who have returned to the music industry, such as Chris Wong Hoi Kan, Sally Yeh (Yip Sin Man), and Samantha Lam Chi Mei, and they've had good results. Last year, there were rumors about Universal Records trying to have Vivian come out from retirement in a grand manner. But even though she's 35 years old, when compared to other singers nowadays, Vivian's body shape, appearance, and even her popularity still looks good. For example, remember last year when Vivian appeared in the audience during Chris Wong's concert and the fans were immediately cheering. Chris even invited her to go on stage to sing a song with him, and Vivian still had good stage presence. It's no wonder why all of the record companies want to sign her.
It's also because of this reason that Vivian would seldom be seen in public places for several years, as she wants a peaceful and normal life. Last year, she appeared at several public events, which was quite rare. Not only did she meet with her good friend of many years, Chris Wong, on stage, Vivian also went to see a few other concerts, such as Sandy Lam Yik Lin's concert last May and the Japanese band, Safety Zone's, concert last October. But her beloved Joe Ngai still wasn't seen with her. Last month at the wedding of the executive of EEG Records, Vivian attended this event, and her looks and style were still attractive. Because of this, there was a rumor that Vivian doesn't like being lonely, and therefore, she wanted to be under the spotlight again in the entertainment circle.
Staying in the same room w/ a male companion for 5 hours
Last Monday night (3/3), Vivian was once again out in public and appeared in Causeway Bay with a male friend and went to the Green Box Karaoke on the 9th floor of Windsor Plaza to sing karaoke for fun. This certainly caused an immediate commotion of the fans who were there. Maybe Vivian didn't expect that she was still so popular. She frowned right on the spot and asked for help from the manager. In the end, Vivian and her friend went to a different karaoke room on the 8th floor, room V37, and continued to have fun.
The two of them were alone in a 30 square feet karaoke room, and they ordered healthy drinks and had fun singing from 11:00pm until 3:00am. When the reporter saw the two of them leaving, the reporter went to the front to take pictures and saw that the man next to Vivian looked similar to William So Wing Hong, except his body was rather muscular and he had darker skin. He didn't refuse to take pictures, but he used the name brand paper bag he was holding to cover his face, and he appeared to be embarrassed. On the other hand, Vivian, who had been an artist for many years and was used to such situations, didn't purposely try to avoid the cameras. The reporter then asked her :
Reporter: "What a coincidence to see you. Were you singing karaoke with your friend?"
Vivian spoke calmly: "Yes, I was singing with my friend just now."
Reporter: "Oh, what have you been doing recently?"
Vivian: "Nothing much. I was recently studying overseas and just came back to Hong Kong for Chinese New Year. I will be leaving in a few days."
Reporter: "Have you ever thought about coming back to the music industry?"
Vivian : "I won't. I have to study. Sorry, it's really late. I must go home. Please don't take anymore pictures."
After talking with Vivian, there's a feeling that she didn't want to talk much about what's been happening to her recently. Now people would be guessing if Vivian's "late night walk" was to plan for her relationship or for her career. If you want to see the progress of this, then you have to keep watching.