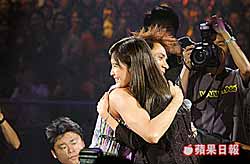 Vivian : "I'm very nervous!"
Chris : "soh jue (silly piggy), you don't have to be scared!"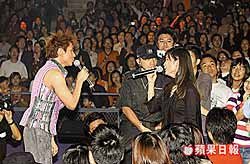 Chris, Vivian : "Ji yiu...tin ji hiu....nei jung yiu!" (just let God know that you are the most important one) 'Endless Love' lyrics.
Chris Wong had his first "Long Time No See" concert on the previous night. 'Jade Girl Master' Vivian Chow, who hasn't been seen for a while, also came to see the show. Many years ago, it was rumored that Chris had a secret crush on Vivian, and during the previous night, Chris invited her to sing a duet song at the last minute.
The audience screamed and cheered
This year, Vivian will turn 35, but she still looks the same. During the previous night when Chris was introducing the guest performers onto the stage, the entire audience screamed Vivian's name loudly, and Vivian couldn't hold back a smile. In the end, Chris invited her to the front of the stage to sing.
Chris said to Vivian, "If I don't betray you this time, then I would have to dig a hole and crawl into it, and I'm afraid there will never be this chance again, so if you don't mind, how about singing?" Vivian hasn't sung for 6 years and after hearing his words, she stared at him w/ big eyes and said, "I can't, I can't!" Chris said, "Just sing a small part, so we could fulfill everyone's wishes." When Vivian saw that the entire audience was cheering and clapping loudly, she finally agreed, and with a railing standing in between Vivian and Chris, they sang "Endless Love" together. Since Vivian hasn't sung for a while, she looked very nervous when holding onto the mike. At the beginning, she couldn't get into the music key, and after singing a small part of the song, Vivian gave Chris a hug and returned to her seat.
Security guards escorted her away from the coliseum
Chris said, "I originally did not want to bother her, because she's living in a peaceful world." When Vivian left the coliseum, she was escorted by several security guards. Reporters asked her if she was very nervous when she had to sing so unexpectedly. She said, "It was very unexpected.. I was very nervous." Afterwards, Chris praised Vivian, saying she sang very good. Chris said, "We've always been the best working partners on stage."
Also, Hacken Lee, Joyce Lee, and Edwin Siu were the guest performers at Chris's concert. When Edwin came out on stage, there was a little bit of booing from the audience. When Hacken came on stage, he said to Chris, "I've missed you so much that my hair turned white already." After Chris finishes his concert, he will go back to Canada. If he can successfully extend his concert to November, then he will return to HK.