Vivian's Gossip Corner
---
Source: Apple Daily, December 9, 1997 (Article translated by Vincent Poy and Vincent Choy)
Vivian's "Palace" series photos comes back alive!
Middle age "dirty men" snaps them up crazily

| | |
| --- | --- |
| | This picture is something bought at one of the stores. It shows Vivian in a sexy pose and can't blame guys for not keeping their hands to themselves... |
| | Being asked if he borrowed a tuxedo from Miss Pat's boyfriend awhile ago, and if it was related to Vivian, Joe didn't comment or say any word about it. |
| | Photo shops rushed to reprint the palace series, which is described as the most sexy series for Vivian in four years, to meet the demand of her fans. |
After Vivian's last concert performance in Las Vegas was being reported by the media, the star photos market is being lifted up once again. There started a craze for viv's photos in HK's "Shun Wo" (Sino Centre), creating fresh demand for a slow Star Photograph market.
Yesterday the reporters interviewed about 10 stores in Sino Centre and Star Photo Sellers, and the person in charge there all said that because Vivian hasn't been out much these two years, and there isn't many new pictures coming out, the selling figures of her photos dropped from first place (Queen of photos) to the rock bottom.
A lady boss from a store says that actually there really isn't anyone buying Vivian's palace series (sexy photos) for quite sometime, and the store doesn't even put them in the shelves anymore. However, after the shows in the US, and after Vivian said that she won't perform anymore, a lot of male fans came to buy this series. Most of them are middle age with perverted looks! They are pretty crazy too .... they bought the entire series (which has over 100 photos) which cost over HK$400 (US$52).
Also Mr. Chan, a wholesaler of those cards, says that recently so many people had been demanding the palace series (sexy photos). "The demand of the palace series at this time is the same as what it was when this series first came out four years ago." Mr. Chan said. "Someone even use photos of this series for the 1998 calender"
"Joe said this is nonsense"
Viv's boyfriend yesterday, while officiating xxx's law firm's opening ceremony, heard about the photo craze and was quite interested to know more, but when he heard that the buyers were "dirty old men", he commented "These people have nothing better to do, No Comment". When asked whether he will continue to host CR2's (Commercial Radio 2) morning program after 3 months of vacation, he replied it all depends on the rating report and the salary.
---
Source: Ming Pao Weekly #1516, December 7, 1997 (Article translated by Wolverine - HKSAR Film Top 10 Box Office)
Direct from Atlantic City : Vivian Chow Wai Man announces her retirement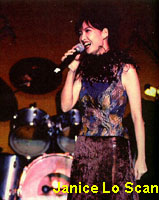 Vivian Chow Wai Man on the 26th flew to Atlantic City for a concert, then on the 29th flew to Las Vegas for another. After that her development in the entertainment circle has officially come to an end.
Since rumors of her and Joe Ngai Chun reuniting surfaced, Vivian's trail has been difficult to track. Almost in a state of semi-retirement, she rarely appeared in public. Thus Vivian's return to stage in America was certainly attractive to the media. Many of the Hong Kong media sent representatives to America, hoping to catch a glimpse of Joe in the audience. Of course this hope is an impossibility.
Vivian held her concert at Atlantic City's Trump Marina Ballroom. There was only one show and the most expensive tickets were US$90. The site was at its capacity, with its 2,000 seats completely filled, even though Aaron Kwok Fu Sing and Ekin Cheng Yi Kin are at the other casinos. Whenever Vivian finished a song, she was greeted with passionate applause.
How can the American fans not know about the romance between Joe Ngai and Vivian? Since everyone knew this is Vivian's farewell performance, the response was even more passionate, which moved Vivian.
She sang on stage and took time to greet passionate fans. On this night, Vivian looked vibrant. In a purple evening gown, her elegance and grace radiated the audience.
After singing "For You", Vivian couldn't hold back and said to her audience, "Farewell, I wish everyone well." Obviously in her heart, she has beautiful expectations for the future of her fans and herself.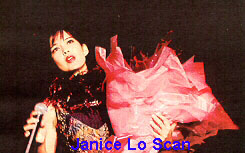 On stage performance of course isn't a problem for the experienced Vivian. One can describe her performance as giving it her all, singing many of her hits like "Beloved", "Automatic Actions", and "Lonely Heartache" and mesmerizing her fans, who didn't want her to leave the entertainment world. Amidst the joyful cheers there was also hidden sorrow.
After the concert ended, the Hong Kong media waited for Vivian, hoping for a chat. Initially Vivian declined any interview, but after seeing so many reporters came all the way from Hong Kong, how could she refuse? Before she began the interview, she asked the reporters to put their camera and notebooks down, because she didn't want to feel like it's an interview, but she hoped to instead chat like friends. She already was no longer used to the endless flashing of the flashlights.
Vivian expressed clearly from the beginning, after the concert on the 29th at Las Vegas, she would officially retire from show business.
Since Vivian eased out of show business a year ago, Charlie Yeung Choi Nei also officially retired to go into business. Now Vivian also clearly indicated to the reporters that she will officially retire. Both the head and the successor of the "Jade Girl" circle have retired. From now on artists of this type will be few and far between.
Charlie's retirement sent the press buzzing for awhile, Vivian felt everyone has a different way of handling things. She still confidently said, "I won't hold a retirement press conference."
A woman's retirement at her prime will unavoidably lead others to think the "joyful day" for Vivian and Joe is coming.
"Marriage......?" was an answer everyone waited for.
"The information you got was false!" Vivian lightly laughed, "I won't get married within this year."
"If not this year, when will you wed Joe?" reporters hounded.
Vivian only laughed, without answering the question directly. Regarding a wedding date, she obviously still would like to keep it low key.
She only said, "The contracts with the record company and manager have ended a long time ago, I won't renew them." Vivian although was unwilling to talk about her personal life, regarding her career she clearly explained everything.
Hiding this year, Vivian quietly accepted the gradual change of her lifestyle. Her will to leave got stronger day by day, naturally without regret.
She even honestly said she enjoys her current peaceful and relaxed lifestyle. She is tired of her past exposed life.
"I arranged my time for practical use. I take time to study, exercise, I can enjoy the space, quiet, freedom that is obviously different from before, which has allowed me to learn to enjoy the flavors of life."
Vivian retires from show business, but she has no plans to disband her fan club. There are indeed plenty of loyal fans who will miss her after she leaves, but with the existence of a fan club, at the very least there is a place for fans to exchange and communicate their feelings instead of just feeling alone.
Vivian actually has always enjoyed singing, a stubbornness about music. Her retirement might just be in front of the scene, she still has quite an interest on song writing. She has already signed with a production company, perhaps continuing her career behind the scene.
Being able to do what she wants and choose her lifestyle and work environment, Vivian felt incredibly lucky, and the press also felt her happiness. - Gei Fei Fu
---
Source: Next Magazine, # 404, December 5, 1997 (Article translated by Bear)
Live from Atlantic City: Vivian Chow's $560,000 Farewell Concert!
Although she hasn't appeared in public for almost a year, Vivian can still draw lots of attention as there are not that many "Jade Girls" left in Hong Kong's entertainment circle. Even though she didn't hold a press conference to say that she will officially retire from the business, everyone counted these two shows (Atlantic City, Las Vegas) as the farewell concert. Vivian was sick when she was there, but she still brought us her best. Besides singing, she even talked with the audience and shook hands with them...all just for US$70,000 (HK$560,000). It's a blow out!
As Vivian mentioned before, this is not a farewell concert as it is a part of the contract which she signed a year ago. Therefore the money she received is quite reasonable. The paycheck also covered the band and airfare. Even the representive of the production company said "It's hard to invite Vivian to do the show, but it's worth the money." On November 27th, two thousand people packed the Grand Ballroom in Trump Marina Hotel and waited for Vivian to perform. Vivian, feeling ill and had a sore throat, still did well and attracted the audience. Besides singing, Vivian talked with the audience and shook hands with them. She talked about many things which came from her heart. She said "Over the years I feel so lucky. I earned things more than losing. But people should do different things in different stages of their life... right now I am enjoying my normal life....getting married? not so fast!" Vivian sang the song "For You (¬° §A)" at the end of the concert. The lyrics is about a girl who gives up all her glory for her man, and go after a wonderful life. Is it a reflection of Vivian's own will?
After the concert at Atlantic City, Vivian had a day off before she headed to Las Vegas. She woke up early in the morning and went to the Chinatown at New York City with the crew. After having breakfast, she walked around on the street. At 11:45AM, Vivian and the gang arrived at Saks Fifth Avenue, a famous department store which not many Chinese shop there. Because that's the first day of the Christmas shopping season, there are so many people in the store, so it's not that fun to walk in the store. Vivian and her auntie walked at the lady's department for hours, but she's not interested in Moschino and Ralph Lauren, but Richard Tyler Collection. She's interested in a grey dress which costs US$350 (HK$2,800), but with the spirit of "Haan Mui" (someone not willing to spend lots of money), she decided not to buy it!
=============
| | |
| --- | --- |
| | On Nov 27th at 2 pm, Vivian had concert at AC, and waved to the audience to say goodbye. On the other day, she and the crew hung around at NY city. |
| | On Nov. 28 around 11:45 AM, Vivian wore a brown jacket, wearing sunglasses and waiting for a taxi with other people at Chinatown. |
| | Saks Fifth Avenue was packed, Vivian and Auntie holding each other's hand and walking in the lady's department. |
| . | Finally Vivian stopped by the Richard Tyler Collection section, and she's interested in this dress. |
| | Vivian needs to wear glasses, but the big glasses can't cover her beauty. |
| | Vivian and Chan Dak Cheung (former singer of Radias) were thought to be a pair, but it went by fast. |
| | For a girl like Vivian, the occassional sexy image brought up the talk, and became a legend. |
---