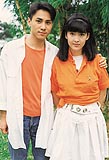 In 1988, Chris started to work w/ Vivian Chow, being the DJs for the radio station's program "World of Two People." Later on, they sang a duet song, "Endless Love," which Chris wrote the music and lyrics for.
From what Chris Wong said, today's music company EEG (w/ singers Joey Yung, Twins, Nicholas Tse, Eason Chen, Ekin Cheng, Edison Chen, Dave Wong...etc.) is as strong as Polygram Records back then (in the 1990s). Chris used to be a singer at PolyGram Records (now known as Universal Music). Back in those days, Polygram practically dominated the entire music industry. Many years later, the past singers who were the nucleus of the company, such as Jacky Cheung, Leon Lai, Vivian Lai, Linda Wong, Winnie Lau, Shirley Kwan, Priscilla Chan, the Grasshoppers..etc... they all left the company, either to get married, or they've simply already disappeared from the scene. Only Hacken Lee is still active w/ this company.

Of course, there's one other person who can't be left out, Vivian Chow. Chris said that no matter if it's work or if it's about feelings, Vivian is still Chris's close friend.

Chris said, "Chow Wai Man (not ah Man or Man Man) is very similar to Chow Ji Yeuk. Although it seems like Vivian is easy to get along with and is positive, but she's actually an intelligent person. Regarding her career or her lifestyle, she has her own way, but it's not as simple as everyone thinks."

The reporter said, "Chow Ji Yeuk? You mean the girl who would do anything to get the Dragon Sabre sword?"

Chris said, "You could say that Chow Ji Yeuk is a villainous character, but from her character's point of view, in the end, all that she did was for the glory of the clan. It's the right thing to do, so how can you say she's villainous?"

The reporter said, "hey, so then is she villainous or not villainous?"

Note: background info on Chow Ji Yeuk - she is a character in Louis Cha (Kam Yung)'s novel, "Heaven Sword and Dragon Sabre" (Yi Tin Tou Lung Gei). TVB made several versions of this story. Actresses who have played the role of Chow Ji Yeuk include Charmaine Sheh Si Man, Sheren Tang Sui Man, and Gigi Chiu Nga Chi.