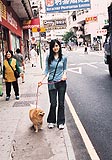 March 18th, 4:00 pm
Vivian was very friendly when she saw the reporter. She stood still to let the reporter take a picture.
Vivian is 34 years old. After retiring from the entertainment circle in '96, she's had a peaceful/normal life.

Since her boyfriend wasn't at her side, she would walk her dog to pass the time or go shopping.

In the afternoon on March 18th, the reporter saw Vivian, who wasn't wearing makeup, with her maid walking her dogs near her house in Happy Valley. It's a good thing she didn't gain a big tummy after living a peaceful lifestyle. She wore a tight t-shirt, and it showed her body was still in good shape.

Keeping fit is a woman's lifelong career. "Jade Girl Master" Vivian understands this reasoning very much, especially since her boyfriend is the talented Joe Ngai; how could she not keep an eye out!

There's been rumors that Joe and Vivian got married in Canada in 1998. Up until February of this year, when the 2 of them were out on a date joyriding in Vivian's car and reporters spotted them, Joe openly spoke and said he wouldn't mind giving out lucky money to the reporters. His words seemed to be hinting that they have already gotten married.

The boyfriend knows his position, however with Joe being busy with his things to do, Joe can't always accompany Vivian and was not with her for the 2 days that reporters took pictures of her. Vivian took her dog out to walk by herself. But after retiring, Vivian seems to always stay at home. She was only out on the streets for about half an hour and then went back to her home. Most of her activities take place around the Happy Valley area where she lives.
| | | |
| --- | --- | --- |
| | | |
| In front of her dog, Vivian was like a commander. From what the reporter could see, the dog was very obedient and wouldn't run or jump all over the place. | | When Vivian was talking to the reporter about her 2 dogs, the dogs kept on circling around their owner (Vivian). |
| | | |
| | | |
| Vivian and her Pomeranian dog were walking around for about 20 minutes and then went back home. | | |
Talking a lot about her dogs
On March 18th, at about 4pm, Vivian and her maid came out of the apartment building, and walking with them were 2 of Vivian's beloved Pomeranian dogs. That day, Vivian was in a good mood, and when she saw the reporter, she politely greeted the reporter, and smiled asking the reporter if the reporter was scared of dogs. While talking about her dogs that she loves, she seemed so happy, "I've had this dog for 9 years, he's the most obedient!" Then she pointed to the dog next to her side.
Vivian and her maid circled around near her home and then returned home. The trip lasted less than 20 minutes. But, Vivian is seldom seen in public, and when she was outside walking, a lot of people were looking at her and praising her that her body was fit.
On March 29th at around 5pm, this reporter saw Vivian again, this time at the photo shop. Vivian was wearing sunglasses and looked beautiful. She was at the photo shop developing film. Afterwards, she went to a clothing shop nearby to do some shopping. However, she left in less than 30 minutes and went back to her home.
Joe wasn't with her at that time. Vivian was by herself walking around near her home. It would seem boring to those who had a busy lifestyle, but for Vivian, who wanted to have peace and quiet, it's a gift.
In late February, Joe and Viv were on a date joyriding in Viv's car. When asked about when they're getting married, both of them smiled. Joe even said he wouldn't mind giving out lucky money. (Apple Daily pix)
Vivian has a good body shape. In '94 when she was wearing the palace dress for her new MTV "Wedding of Feelings", this was another hot topic.
March 29th, 5pm
Developing photos

That day, Vivian was dressed more formal than usual. When she went into the photo shop, she attracted many admiring eyes.

Going to the ATM -
After developing photos, Viv went to a nearby ATM to get money. She's always had the nickname of "Haan Mui" ('Thrifty Girl'.. her character in "The Greed of Man" TVB series). She only took HK$400 (US$51) out of the ATM.

Looking at clothing -
After getting money, Vivian went to a nearby clothing shop to look at some clothes, but she couldn't find anything she liked, so she left w/ nothing.