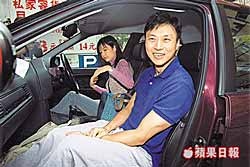 It's rare to see a picture of Vivian and Joe dating. Yesterday, Vivian was the chauffeur for Joe, driving him around town.

In 1998, Vivian wore a diamond ring on her right hand. (Picture taken in 1998)
Yesterday, Vivian was the chauffeur (personal driver), driving her BMW and taking Joe to his friend's house for a visit. When reporters asked Joe if he would pass out lucky money, he was humourous and asked reporters if they wanted lucky money, he could give it to them right away. Does this mean Vivian and Joe are already married?

Vivian and Joe's love relationship has always been low-key. Yesterday, reporters at Hoh Man Tin mountain spotted them on a date joy-riding (driving the car) around town. It's been more than 2 years since the 2 have been seen together, ever since July 1999 when they were seen playing badminton in Happy Valley.

Hinting that they are already married?
Yesterday, Vivian was driving her BMW, while Joe was sitting next to her in the passenger seat. When they first discovered reporters were taking pictures, they both seemed startled.

When reporters requested for an interview, Joe agreed to do the interview and rolled down the car window to do a short interview. When reporters asked Joe if he was staying in HK for Chinese New Years, Joe said, "I've been in HK for a while. Today I'm going to visit my friend."

Then reporters asked if he would be passing out lucky money. After Joe and Vivian heard that question, they both smiled. Joe said in a humourous way, "Then do you want lucky money? I can give it to you right now." Is Joe hinting that he and Vivian are already married? Afterwards, Joe thought the reporters had taken enough pictures, so Vivian started the car and they left.

Wearing wedding ring on index finger
Vivian and Joe got back together as a couple in 1996 and gave up their work to enjoy their dating lifestyle. During that time period, Vivian and Joe lived in Canada. In 1998, Vivian attended the 30th anniversary of her school, St. Stephens Church College, and was wearing a diamond ring on her right index finger. But at that time, Vivian denied that she and Joe were secretly married.