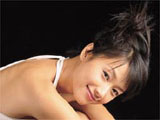 Tsu Jing Lui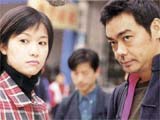 Tsu Jing Lui has to portray 2 roles in 'Greed of Man 2000.' Besides training on her acting, she also has to prepare to be compared with Vivian.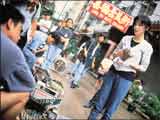 Vivian portrayed 'Haan Mui' really well 10 years ago (should be less than 10..it was shown in '92), and lots of people gave praise on that.
"Greed of Man 2000" has been aired for over a week (on ATV, not TVB), with the average rating of 11 points, and the stock market had lost 1500 points. Besides the "Ding Haai Effect," (which causes the stock market to drop dramatically) another thing that people are talking about on this show is that the new 'Haan Mui' (thrifty girl) is worse than her predecessor. (of course! Nobody can act as the role of 'Haan Mui' better than Vivian!!)
There were rumors about Wai Ka Fei, the producer of "Greed of Man 2000," finding Vivian Chow to portray this legendary role. However, the 2nd generation Haan Mui, named Siu Guk, is portrayed by Tsu Jing Lui, a 26 year-old actress from China, and her appearance in the series is comparable with Amy Kwok Hoi Ming and Alice Chan Wai. Yet, this girl has a solid background, and the producer is proud of her, so that's why she can take the role.
The producer never contacted Vivian
As there were rumors about the producer finding Vivian Chow to appear in "Greed of Man 2000," producer Wai denied it. "I haven't thought of getting Vivian to portray 'Haan Mui,' since from the very beginning I am hoping to find an actress from China to portray the role. Tsu's acting is so natural and real life, and she could get along with the colleagues from Hong Kong, so that's why I picked her to portray Siu Guk."
'Si Je' of Vicki Chiu Mei
Although Tsu Jing Lui is not famous in Hong Kong, but she's the 'si je' (a girl that went to the same school and is in a higher grade level) of Vicki Jiu, graduating at Beijing Movie College 2 years earlier than Vicki. She already appeared in lots of movies and TV series in China and was named as one of the 'Big 4 actresses' along with Vicki and the other two actresses.
Not afraid of being compared with Vivian
As Vivian portrayed the role so well, Tsu said she doesn't feel any pressure. "She (Vivian) is beautiful and her acting skills are good too. But the role I am taking is another character. In the first three episodes, Siu Mui (aka Haan Mui... ATV couldn't use the same character names as the TVB "Greed of Man," cuz the names were copyrighted) is the original role, but she passed away very fast. Later on, Siu Guk is the new character that I portray and will develop a relationship with Lau Ching Wan. Therefore, there is a difference. I won't pretend to be Vivian, and I'm not afraid of others making a comparison between us."
"Greed of Man 2000" got an 11 point rating, and the producer feels satisfied. Yet there was a report about Tsu Jing Lui not being as attractive as Vivian. Wai Ka Fei tells his own view. "You got to look at the whole thing. All the characters are different from the original "Greed of Man" (made in 1992), and it is unfair to compare between them. Also, Tsu's role is from China, and she would speak Mandarin in the series. I believe this would make a good effect. Her tearful relationship with Lau Ching Wan would become more attractive as the series rolls on, and I believe the rating would raise to 20 points."
Comparison between the two 'Haan Mui' characters
Vivian Chow
Birthdate: 11/20/1967
Age: 32
Height: 5' 6"
Weight: 114 lb (not exactly..it varies)
Measurements: 35, 25, 35
Education: Form 7
Awards: Most popular foreign artist (Japan) (93)


Top Ten Hong Kong drama stars (Taiwan) (93)

Top Ten Singers in Asia (95)
Tsu Jing Lui
Birthdate: 4/16/1974
Age: 26
Height: 5' 6"
Weight: 108 lb
Measurements: 33, 25, 35
Education: Graduated at Movie College at Beijing
Awards: 6th place, Top 10 Focus stars (99)


7th annual Movie Performance Association Award (99)

Top Four Actresses in China (00)