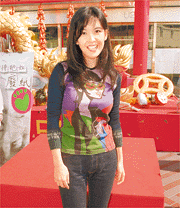 Vivian is the Jade Girl Master for sure. Her looks and figure did not change at all. Her top figure is even better than before. It really makes everyone admire her.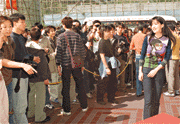 Vivian hasn't been seen for a long time. When she appeared, she was surrounded by a large group of people.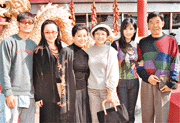 Vivian teamed up with the group of actors from "Kindred Spirit," working hard to raise money for HKSAA. It really shows everyone's kindness.
Jade Girl Master Vivian appeared at the HKSAA fund raising event yesterday. For only HK$40 (US$5), you can take a picture with Vivian. Although Vivian was wearing a T-shirt with jeans, which covers her up pretty well, it still shows her good figure outline. With Vivian's good figure, it attracted a lot of attention, and many people stood in line waiting to take a picture with her. Actors from "Kindred Spirit" as well as Jessica Hsuen and Wong Hei also attended the fund raising event.

Wish to have a Happy Valentine's Day
Vivian made an acception to have an interview, but when reporters asked about her honey Joe, she still kept her mouth shut and did not say anything. This really made the reporter disappointed, and she wouldn't even say anything about if she was with Joe or not. She smiled sweetly and replied: "I am not going to tell you guys..". Even though Vivian didn't want to say, by looking at the way she responded and smiled, we can tell that Joe is with her back in HK. The reporter also asked her: "Tomorrow is Valentine's Day. What are you going to do?" Vivian said: "It's a secret. I wish everybody has a happy Valentine's Day." (So when are you going to get married?) "I don't know. This is my personal matter, and I will not announce it to the public. Thanks for caring." The only thing Vivian agreed to say is: "Recently I am doing fine. Most of the time I rest, go on the Internet, and read books."

Do something for the cats and dogs
Vivian does not want to talk about Joe at all, but when we asked about the HKSAA, she was talking non-stop and said: "I am a member of SAA and I really love animals. I have 2 dogs and I wish everyone loves animals like I do. Don't let go of the animal. Our association is still very poor. That's why all the fund raising is done by the members. We really need some kind people to help us out." (Will you do a show for the association to raise money?) "So far we don't have that plan yet. If necessary, I will think about it. Everyone just wants to help out and wants to do something for the cats and dogs." (Any other association provide help?) "So far we don't have any yet. You are welcome to get in touch with me." (Have you thought about making any movies?) "I have not thought about it yet."

Vivian was under the sun for almost 2 hours, working hard to raise money. After the event finished, she went to Central to have afternoon tea with her friend, but there was still no sign of Joe. When Vivian found out that she was being followed by the reporter, she paid the bill and left.