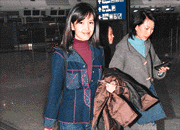 Vivian flew to San Francisco quietly to meet Joe, and she's still in time to get a red envelope (lucky money) from her future father and mother in-law.
Two days ago Vivian flew back to San Francisco quietly, where she could meet Joe, and prove that the rumors about them already separating is a hoax. The flight would take at least 10 hours, but such actions already show that the relationship between Vivian and Joe is solid like a rock.
We heard from a reliable source who said Vivian would take the 10:45 flight to San Francisco. However, Vivian arrived at the airport at around 10:10, which was so late to get aboard. We heard it's because Vivian missed her mother so much and that Vivian would want to be with her mother for a few more minutes rather than going to the airport early. Vivian was surprised when she saw the reporters at the airport, but she remained calm. She returned a friendly smile to the reporters and then she rushed through the gate.
Being a good daughter
When Vivian came back to Hong Kong last October to be with her mother, it drew some bad rumors. Rumors said the couple (Vivian and Joe) already separated, and Joe was in love with Ruby Yiu, which made Vivian very sad, so she went back to Hong Kong. Being pressured by the media, Vivian stepped up and said that they never separated, and the relationship is still in good shape. In fact, Vivian came back to Hong Kong to be with her mom during the Chinese New Year, since Vivian's mom is more concerned with this holiday, and also her mom was left alone for a really long time, so Vivian has to leave Joe alone and be with her mother. A while ago, Joe came back to be with Vivian for sometime, which shows that they missed each other very much. Yet, Joe has to leave early, as he has to come back to San Francisco to be a good boy, too.